Y.E.C. - Youth Engagement Committee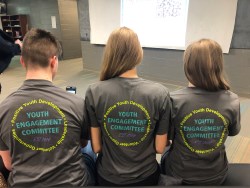 The Youth Engagement Committee (Y.E.C.) is a group of youth aged 12 to 17 years who serve to guide and advise Youth Staff on appropriate programs, special events, and services for youth in the Town of Aurora. Applications are open each year from May 1 to July 31.
The committee works with the Town to address any related current trends and issues and engage all youth in this process through a variety of ways and means.
Y.E.C. Committee Information
Committee Members - Roles & Responsibilities
Some of the committee members' roles and responsibilities include:
Engage youth within the community
Encourage active participation at the Youth Centre
Serve as a liaison between youth in the community and Town staff
Explore potential sponsorship opportunities
Assist in developing programs, services, and special events for youth
Contribution to Community
Each meeting on the 4th week of the month is open to all youth ages 12 to 17. Teens are encouraged to attend open meetings to hear about what's happening, voice their opinion and get engaged. Contact the Youth Division to learn more about Open Meetings and how you can virtually attend.
Application
Applications for the 2023-2024 term are now open. Applications will be accepted from May 1 to July 31, 2023.
If you or someone you know would like to get involved with the Youth Engagement Committee, please email the Y.E.C. To become a member, you must:
Be an Aurora resident between the ages of 12 to 17 years or attend school in Aurora.
Complete and submit a Y.E.C. member application form.
Complete and submit a letter of interest.
Complete a successful interview for the position.
Please email the Youth Division for more information.
Y.E.C. Scholarship & Volunteer Opportunity Database
The 2021-2022 Youth Engagement Committee has created this document for their peers to make finding Scholarship and Volunteer opportunities more easily accessible to youth. This resource has been researched and put together by the members of the committee, who are a group of 12 to 17 year old's who live or attend school in Aurora. We encourage all youth to speak with their schools and guardians before signing up for any volunteer opportunities to ensure they are the right fit, and the hours will be accepted.
Y.E.C. Database Project - Scholarship & Volunteer Opportunities
For more information or to bring something forward to the Y.E.C., please call 365-500-3164 or email the Youth Division