Y.E.C. - Youth Engagement Committee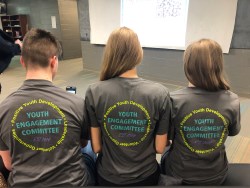 The Youth Engagement Committee (Y.E.C.) is a group of youth aged 12 to 17 years who serve to guide and advise Youth Staff on appropriate programs, special events, and services for youth in the Town of Aurora. Applications are open each year from May 1 to July 31.
The committee works with the Town to address any related current trends and issues and engage all youth in this process through a variety of ways and means.
Y.E.C. Committee Information
Committee Members - Roles & Responsibilities
Some of the committee members' roles and responsibilities include:
Engage youth within the community
Encourage active participation at the Youth Centre
Serve as a liaison between youth in the community and Town staff
Explore potential sponsorship opportunities
Assist in developing programs, services, and special events for youth
Contribution to Community
The Y.E.C. meets bi-weekly to weigh-in on community issues, promote community services, and host community events/fundraisers. Here are some of the ways the Y.E.C. has contributed to the community.
Naming and assisting in the design of the Youth Centre.
Assisting in the 2019 Youth Friendly Communities application, which earned a platinum designation.
Promoting youth events and opportunities in the community.
Researching and creating a youth scholarship and volunteer database.
Developing and running youth events such as The Quizlympics Trivia Contest, Youth Week, and an Open Mic Night.
Application
Applications for the 2023-2024 term are now closed.
If you or someone you know would like to get involved with the Youth Engagement Committee, please email the Y.E.C. To become a member, you must:
Be an Aurora resident between the ages of 12 to 17 years or attend school in Aurora.
Complete and submit a Y.E.C. member application form.
Complete and submit a letter of interest.
Complete a successful interview for the position.
Please email the Youth Division for more information.
For more information or to bring something forward to the Y.E.C., please call 905-726-4760 or email the Youth Division.