COVID-19 Updates: Visit our COVID-19 webpage for full details and up-to-date information.
---
Take Home Kits
The Town of Aurora has created a variety of exciting and interactive Take Home Kits to enjoy in the comfort and safety of your own home. From preschool to children, youth to adults, we have something for everyone. Kits must be purchased online. Please visit our Take Home Kits webpage for full details.
---
Return to Adapted Programs - What to Expect
(Updated on April 1, 2021)
Note: The following Return to Play guidelines will be in place for when recreation facilities reopen and in-person Spring programs and drop-ins are permitted to resume.
For everyone's safety and comfort, please review the following information carefully prior to returning to a Town of Aurora Adapted Program. You will also receive an email prior to the start of your program with additional information.
Pre-registration is required. Register online at e-PLAY
Program Modifications
Program capacities have been restricted so participants can maintain physical distance.
Physical distancing will be enforced at all times.
Activity tables and program equipment will be set up prior to program to ensure physical distancing is maintained at all times.
Where possible, equipment and material will be divided into kits/bins to ensure items are used exclusively by one individual or household.
After each program all equipment, tables and activity stations will be cleaned/disinfected before next use.
Facility Access & Participant Screening
Access to all Town of Aurora Facilities is limited to those who have pre-registered for a program or drop-in plus 1 parent/guardian.
Only 1 parent/guardian may participate in the program per participant. No additional spectators may access the facility or program.
Registration for Spring Programs and Drop-Ins will begin on Monday, March 29 for residents. Non-resident registration will begin on Thursday, April 1. Visit e-PLAY to register online.
As a part of registration, participants will be asked a series of screening questions. If participants answer "yes" to any of the questions, they will not be permitted to enter a Town Facility.
Participants are asked to come dressed for their program as the use of change rooms is not permitted at this time.
Upon arrival to the facility for your scheduled program you will be met at the front entrance by a Facility Greeter. They will confirm your registration and ask you 1 affirmation screening question "When registering for the program, you answered screening questions in relation to COVID-19 symptoms and exposure. Have any of your responses to those questions changed?" At this time, the participant's parent/guardian accompanying them to the program will also be asked the same screening questions the participant was asked at registration. If the participant or parent/guardian answer "yes" to any question, they will not be granted access to the facility. The participant must exit the building and contact their local health unit for next steps.
All Staff will also be pre-screening before entering any Town Facility each day.
Face Masks are Mandatory in all Town Facilities
The Town of Aurora will follow all York Region guidelines for mandatory masks as outlined in The Regional Municipality of York Medical Officer of Health Instructions to Businesses and Organizations Currently Operating (under the Emergency Management and Civil Protection Act (EMCPA), R.S.O. 1990 and related Regulations).
Note: York Region Public Health lists children under the age of 2 as an exemption, therefore it is not mandatory for them to wear a mask when participating in any Preschool Programs. To review this guideline in addition to suitable exemptions and additional information regarding the use of masks and face coverings, visit the York Region Public Health website.
Physical Distancing & Signage
Participants will be required to maintain physical distancing at all times.
There will be floor markings and signage throughout each facility to promote and maintain physical distancing.
Program capacities have been restricted so participants can maintain physical distance.
Programming is modified and limited, to allow for staggered start and end times.
There will be one-way directional flow throughout the facility.
Participants are asked to arrive for their program no earlier than 15 minutes before their program start time and must leave the facility within 15 minutes of their program or activity ending.
Cleaning and Sanitization
High touch surface areas will be cleaned and sanitized between programs and activities throughout the day.
Program supplies and equipment will be cleaned and sanitized after each program.
Individual program supplies will be provided when possible.
---
Inclusion Services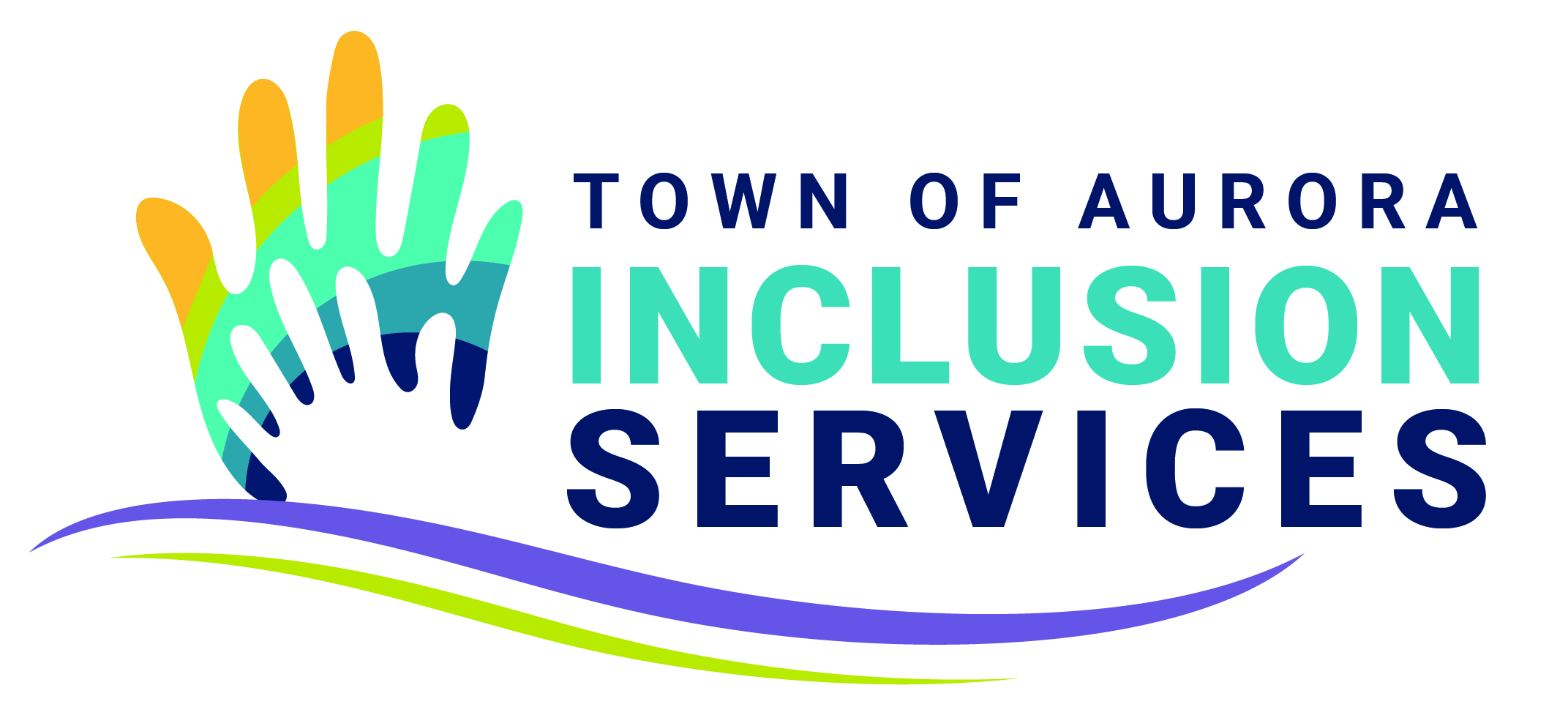 The Town of Aurora welcomes and encourages residents of all abilities to have equitable and meaningful access to recreation opportunities. This is accomplished through specialized programming, individualized support options and accessible facilities for patrons with disabilities or unique needs.
Participant Intake Form
The Town of Aurora Inclusion Services works closely with families and participants to create a successful, safe, and meaningful recreation experience for all participants. As a part of the intake process, information is collected to help prepare our staff, programming and environment to accommodate the unique needs of participants. All participants who require additional support, adaptations, or are attending a program with a Town of Aurora Inclusion 1:1 Support Staff should fill out the Participant Intake Form. This intake form is confidential and will only be provided to the staff and/or volunteers working directly with a participant in a registered program. This form should be completed at minimum every 2 years to ensure the most up-to-date and accurate information. Please complete the electronic Participant Intake Form by clicking the button below.
Mediator Passes
Mediator Passes are available to allow the individual requiring support to be accompanied by a Mediator into our Aquatics, Fitness, Gymnasium drop-in programs and pay as you go activities without additional cost to the Mediator. Please contact the respective coordinator for more information, or speak with our Customer Service Representatives to obtain a pass.
---
Integrated Opportunities
Participants require additional support if:
They have extra support at school or at home;
A physical, medical, or developmental/learning disability exists that affects the safety of others;
Extra support is required at home for basic care such as dressing and toileting;
The individual is currently associated with a support agency or program; or
There are challenging behaviours to be managed.
Additional Support
Participants with disabilities and unique needs are encouraged to take part in year-round recreation programs that suit their interested and hobbies. If assistance is required outside of the typical staff to participant ratio, individuals are required to attend with a their own external support person. An external support person can include a parent, family member, or paid external staff member at the expense of the family.
---
Adapted Opportunities
The Town of Aurora offers specialized programs specifically designed for participants with special needs. These adapted programs have smaller staff to participant ratios, modified instruction, and an overall more sensory aware environment.
Program Locations:
A.C.C. - Aurora Community Centre
A.F.L.C. - Aurora Family Leisure Complex
S.A.R.C. - Stronach Aurora Recreation Complex
Zoom - Virtual Online
Pre-registration is required. Register online at e-PLAY
PlayAbility - Preschool & Children
PlayAbility
Adapted Programs will resume in Fall 2021. Visit us here in August for more information about adapted programming options for individuals with disabilities.
Soc-Ability Virtual Club - Youth
Registration - Opens on Friday, May 7.
Soc-Ability Virtual Club - Youth
Location: Zoom (virtual)
Ages: 16 to 21 years
We are excited to announce a new virtual social club for teens and young adults with disabilities. Join us weekly for an online hang-out session specifically designed for participants aged 16 to 21. Soc-Ability virtual sessions will include simple activities, "Get To Know You" question and answer led discussions, and other theme-focused chats with friends. We understand the past year has been hard on individuals who are seeking new friendships and meaningful relationships. This program will have a focus on meeting new people, practicing social and life skills, and socializing in a safe, adapted and supported space. All abilities are welcome. Participants will receive a secure Zoom link and passcode via email prior to the program start date. Participants will also be asked to agree to a Participant Code of Conduct to ensure a safe and positive environment for all.
| | | | | |
| --- | --- | --- | --- | --- |
| Day | Date | Time | Fee/Class | Code |
| Tue | May 25 | 4:30 p.m. to 5 p.m. | Free | 22376 |
Frequently Asked Questions
Does my participant need to attend the virtual program with a parent/guardian?
It is not mandatory that a parent or guardian attend the virtual program with their participant. We encourage independence and would like participants to attend at a level in which they are comfortable. However, if your participant requires consistent technical support with virtual programming or assistance with muting/unmuting their microphone, we suggest a parent or guardian stay nearby for the duration of the program.
Does the Zoom meeting platform used have password protection?
Yes, the Zoom meeting is set-up on a corporate Zoom account and requires a password to enter. Only those who have formally registered and completed intake with Town of Aurora full-time staff will be accepted into the program.
Can non-residents participate in this program?
Yes, non-residents can participate in this program.
What kind of technology is required to participate in this program?
Participants will require either a laptop, desktop computer, iPad or mobile phone with reliable internet access to participate in this program. Preferably, participants should have a camera or webcam to participate, as all staff and participants are invited to be on-camera. A Zoom account is not required to participate. Prior to the program start date, participants will receive an email with the Zoom link and passcode. Individuals should click the link provided in that email to access the virtual program and will be entered into a waiting room. Full-time staff will add approved participants into the program once it starts.
My participant does not have a formalized disability, can they still participate?
Participants of any and all abilities are welcome to participate in this program, regardless of formal disability or not. Those who participate must be able to follow the Code of Conduct, which will be sent via email prior to the program start date.
My participant does not fit in the age range of this program – are they still eligible to participate?
Age exemptions will be made on a case-by-case basis and are dependent on a few different factors. Those requiring an age override to participate in this program should reach out to the Community Programmer to determine if this is possible. Please email Chiara Walsh for assistance.
---
Contact
If you have any questions or require more information on Inclusion Services and finding the right program for an individual, please contact:
Chiara Walsh
Community Programmer
905-727-3123 ext. 3528
Email Chiara Walsh
​Related Links​