Want to know what construction projects are upcoming? Plan your travels around Town by viewing our interactive web map of current and upcoming roads, sidewalks and infrastructure projects.
Construction Interactive Web Map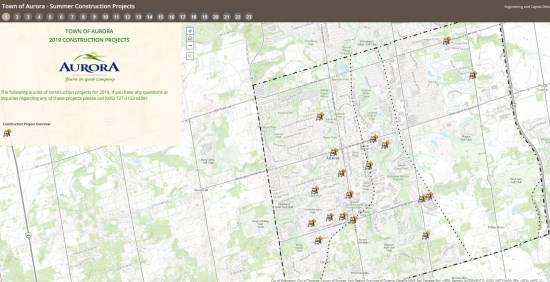 Stormwater Management Facility WC3 pond retrofit
Virtual Open House: Tuesday, July 20, 7 p.m.
Virtual Open House: Tuesday July 20, 7 to 8 p.m. This is an opportunity for to see what is proposed and to ask questions. The meeting will be conducted via zoom. Please see the details below:
Join Zoom Meeting
https://zoom.us/j/99409798068
Meeting ID: 994 0979 8068
One tap mobile
+12042727920,,99409798068# Canada
+14388097799,,99409798068# Canada
Dial by your location
+1 204 272 7920 Canada
+1 438 809 7799 Canada
+1 587 328 1099 Canada
+1 647 374 4685 Canada
+1 647 558 0588 Canada
+1 778 907 2071 Canada
Meeting ID: 994 0979 8068
Find your local number: https://zoom.us/u/acacp7B4y
Project Details
Lake Simcoe Region Conservation Authority (LSRCA) has been retained by the Town of Aurora to complete the retrofit design of the storm water management facility (SWM facility WC3) located at the southeast corner of Deerhorn Crescent and Kennedy Street West.

The SWM facility WC3 retrofit design will include removal of sediment, deepening and widening of the SWM facility pond area while maintaining its existing overall footprint, an additional armourstone berm as well as removal and replanting of native tree and shrub plantings.

As part of this project, multiple field investigations will be undertaken to determine the current condition of the site and the surrounding environment. These investigations will include a geotechnical investigation, photographs/video of the existing site conditions and gathering field information required for the design works.
Design Drawings
View the WC3 Pond Retrofit Designs now.
Timeline
It is anticipated that these investigations will be completed in July. Some Construction activities such as vegetation removal may occur in July and August with hiring of a Contractor and pond excavation works anticipated to begin this fall with completion in winter of 2021 or spring of 2022.
Contact
Should you have any concerns, or should you require any additional information, please contact Glen McArthur, P.Eng., PMP, Municipal Engineer, Planning and Development Services, Engineering Division by telephone at 905-727-3123, ext. 4322 or by email gmcarthur@aurora.ca.

Relevant Links
Downloads for Town Contractors