Want to know what construction projects are upcoming? Plan your travels around Town by viewing our interactive web map of current and upcoming roads, sidewalks and infrastructure projects.
Construction Interactive Web Map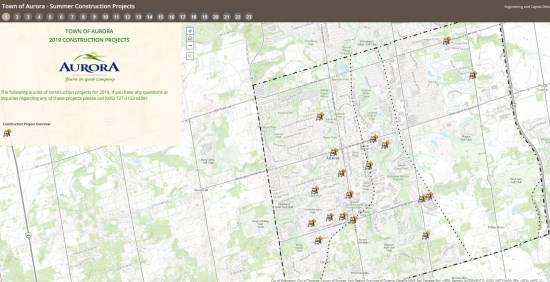 Devlin Place: Stream, Pond & Culvert Rehabilitation
Virtual Open House: Tuesday, November 23, 7 p.m.
Virtual Open House: Tuesday November 23, 7 to 8 p.m. This is an opportunity for to see what is proposed and to ask questions. Please see the details below:
Join virtual public open house using below web address:
https://amosr.my.webex.com/join/Amos
If you don't have the WebEx app installed, you will be prompted to either 'install the app' or 'join using web browser'. Either option works.
You will then enter into the web meeting room, and your name will show up on the right side under participant's panel.
If you don't have access to a computer with audio and microphone capabilities, you can join the conference by calling: 438-239-7109, then enter meeting code: 148 208 253.
Please enter into the meeting 5 minutes before the meeting start time.
Project Details
Aquafor Beech Limited (Aquafor) has been retained by the Town of Aurora to complete a stream rehabilitation, pond retrofit, and culvert restoration design to address erosion and flooding concerns along Tannery Creek near the Devlin Place Crossing.
The proposed works will include implementation of a natural channel design upstream of Devlin Place to address erosion related risks to private property. Downstream of Devlin Place local erosion control measures will be implemented to protect critical infrastructure including the Devlin Place culvert and a storm sewer outfall. The existing SWM facility located behind Teasdale court will also be retrofitted through the removal of accumulated sediment and transformation into an engineered wetland. The existing 450mm diameter storm sewer between house 7 and 9 on Teasdale Court will be replaced with a 900mm diameter storm sewer. A new oil/grit separator and high inlet capacity storm sewer catch basins will also be installed on Teasdale Court to improve, collection, treatment and conveyance of stormwater.
This work has been deemed to be essential and will be undertaken during the COVID-19 pandemic. The Town and their consultants will be subject to personal safety and protection guidelines that have been set out by the Province of Ontario in relation to the COVID–19 Pandemic. Further information regarding the Town of Aurora's response to COVID-19 can be found at aurora.ca/covid-19.
Design Drawings
See the detailed design drawings for this project.
PIC Information Display Boards
PIC Comment Form
Timeline
Construction works are currently planned to begin the year of 2023.
Contact
Should you have any concerns, or should you require any additional information, please contact Glen McArthur, P.Eng., PMP, Municipal Engineer, Planning and Development Services, Engineering Division by telephone at 905-727-3123, ext. 4322 or by email gmcarthur@aurora.ca.

Relevant Links
Downloads for Town Contractors