Inclusion Services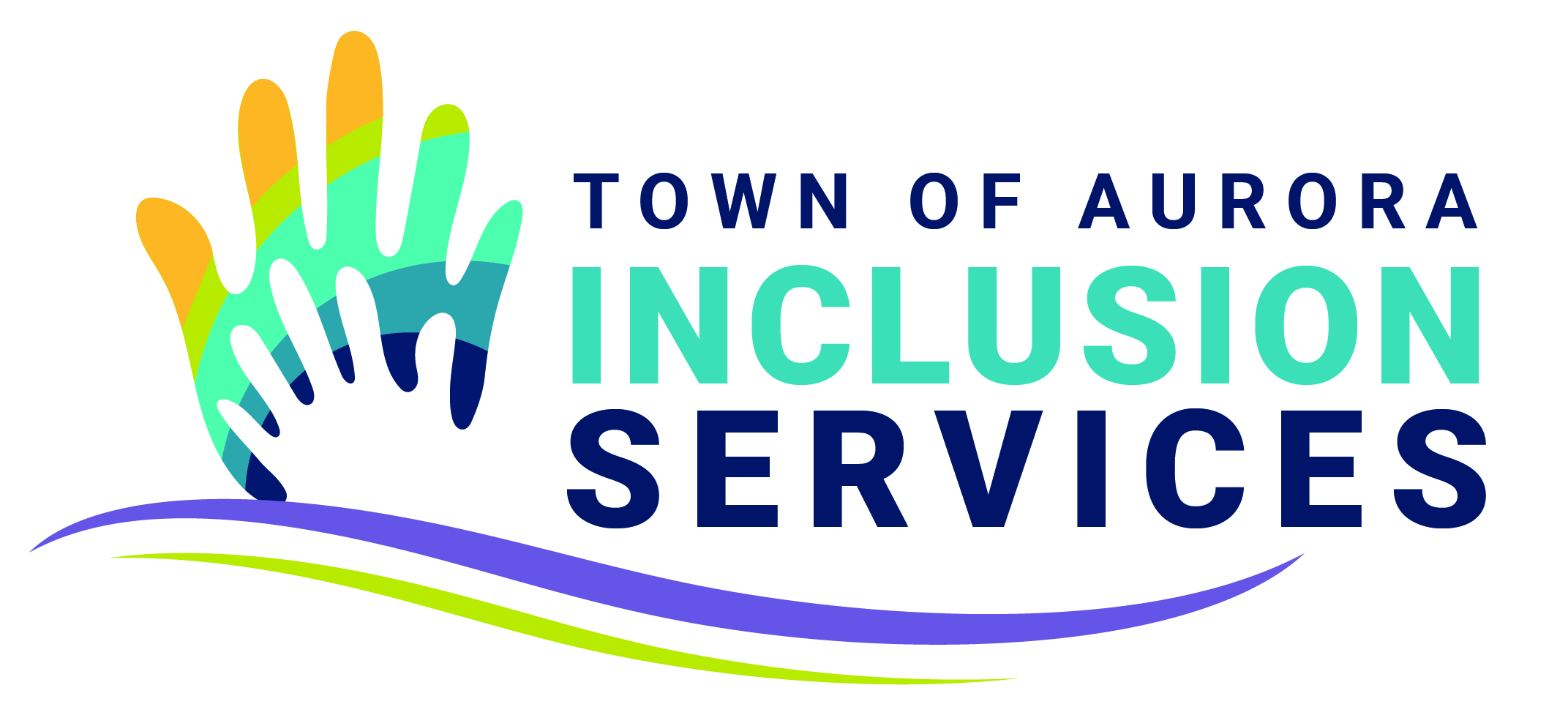 The Town of Aurora welcomes and encourages residents of all abilities to have equitable and meaningful access to recreation opportunities. This is accomplished through specialized programming, individualized support options and accessible facilities for patrons with disabilities or unique needs.
Participant Intake Form
The Town of Aurora Inclusion Services works closely with families and participants to create a successful, safe, and meaningful recreation experience for all participants. As a part of the intake process, information is collected to help prepare our staff, programming and environment to accommodate the unique needs of participants. All participants who require additional support, adaptations, or are attending a program with a Town of Aurora Inclusion 1:1 Support Staff should fill out the Participant Intake Form. This intake form is confidential and will only be provided to the staff and/or volunteers working directly with a participant in a registered program. This form should be completed at minimum every 2 years to ensure the most up-to-date and accurate information. Please complete the electronic Participant Intake Form by clicking the button below.
Mediator Passes
Mediator Passes are available to allow the individual requiring support to be accompanied by a Mediator into our Aquatics, Fitness, Gymnasium drop-in programs and pay as you go activities without additional cost to the Mediator. Please contact the respective coordinator for more information, or speak with our Customer Service Representatives to obtain a pass.
---
Integrated Opportunities
Participant Support
Participants require additional support if the following applies.
They have extra support at school or at home;
A physical, medical, or developmental/learning disability exists that affects the safety of others;
Extra support is required at home for basic care such as dressing and toileting;
The individual is currently associated with a support agency or program; or
There are challenging behaviours to be managed.
Additional Support
Participants with disabilities and unique needs are encouraged to take part in year-round recreation programs that suit their interests and hobbies.
If assistance is required outside of the typical staff to participant ratio, participants have two options for support (see below).
External Support
Individuals may attend a registered program with their own external support person arranged by the individual family. An external support person can include a parent, family member, personal support staff, etc. External Support Persons must provide a recent Police Vulnerable Sector Screening to Inclusion Services prior to the start of the program.
Town of Aurora Inclusion Staff
Town of Aurora Inclusion Staff are available to support participants in a 1:1 capacity to be integrated into a mainstream recreational program. In most cases, 1:1 support can be arranged, however we ask families to provide at least two weeks notice prior to the start of a program to allow for adequate time to confirm a staff member.
---
Adapted Opportunities
The Town of Aurora offers specialized programs specifically designed for participants with special needs. These adapted programs have smaller staff to participant ratios, modified instruction, and an overall more sensory aware environment.
Program Locations
A.C.C. - Aurora Community Centre
A.F.L.C. - Aurora Family Leisure Complex
S.A.R.C. - Stronach Aurora Recreation Complex
Zoom - Virtual Online
Virtual Adapted Programs - FAQ's
Frequently Asked Questions
Please see below for some for FAQ's.
Does my participant need to attend the virtual program with a parent/guardian?
It is not mandatory that a parent or guardian attend the virtual program with their participant. We encourage independence and would like participants to attend at a level in which they are comfortable. However, if your participant requires consistent technical support with virtual programming or assistance with muting/unmuting their microphone, we suggest a parent or guardian stay nearby for the duration of the program.
Does the Zoom meeting platform used have password protection?
Yes, the Zoom meeting is set-up on a corporate Zoom account and requires a password to enter. Only those who have formally registered and completed intake with Town of Aurora full-time staff will be accepted into the program.
Can non-residents participate in this program?
Yes, non-residents can participate in this program.
What kind of technology is required to participate in this program?
Participants will require either a laptop, desktop computer, iPad or mobile phone with reliable internet access to participate in this program. Preferably, participants should have a camera or webcam to participate, as all staff and participants are invited to be on-camera. A Zoom account is not required to participate. Prior to the program start date, participants will receive an email with the Zoom link and passcode. Individuals should click the link provided in that email to access the virtual program and will be entered into a waiting room. Full-time staff will add approved participants into the program once it starts.
My participant does not have a formalized disability, can they still participate?
Participants of any and all abilities are welcome to participate in this program, regardless of formal disability or not. Those who participate must be able to follow the Code of Conduct, which will be sent via email prior to the program start date.
My participant does not fit in the age range of this program – are they still eligible to participate?
Age exemptions will be made on a case-by-case basis and are dependent on a few different factors. Those requiring an age override to participate in this program should reach out to the Community Programmer to determine if this is possible. Please email Chiara Walsh for assistance.
Adapted Programs
Adapted Programs are recreational programs specifically designed for participants with disabilities and unique needs.
Play-Ability: Participants of all abilities are welcomed into this adapted stay and play program specifically designed for children with disabilities. A 1:3 staff to participant ratio will be provided. This program will focus on the development of gross motor skills, a variety of movement skills, turn taking and sharing. Participants must be accompanied by a parent, guardian or support person.
Move-Ability: It's time for a dance party! In this adapted program, participants of all abilities will engage in a variety of movement activities that promote physical literacy, rhythm, and coordination. Participants will partake in an engaging warm-up, sing-alongs, and interactive movement songs. This program will include an opportunity for freestyle in order to develop and promote self-expression and confidence. This program is offered at a 1:3 staff to participant ratio. Participants must be accompanied by a parent, guardian or support person.

Soc-Ability: Come and join this virtual social club for youth and young adults of all abilities. Join us weekly for an online hang out session specifically designed for youth and young adults. Soc-Ability virtual sessions will include simple activities, facilitated social discussion, and other theme-focused chats with friends! This program will have a focus on meeting new people, practicing social and life skills, and socializing in a safe, adapted and supported space. All abilities are welcome.
For more information, check out the Inclusion Services section of our Program Guide.
Adapted Aquatic Options
Aquatic Participant Intake Form
Swimming is a very important life skill to learn for safety around water, fitness and fun. Aquatics has three opportunities to support all swimmers to learn how to swim.
Adapted Privates: Specifically designed for swimmers with disabilities, and will feature one swimmer with one instructor focusing on specific skills requiring attention.
Inclusive Swim Lessons: Specifically designed for swimmers with disabilities. Aquatic staff are available to facilitate participation on group swim lessons. The aquatic staff will maintain a one-to-one instructor to swimmer ratio. The aquatic staff may provide redirection for safety reasons or to provide time for sensory breaks.
Aqua Buddies: This is our volunteer program, where we look to pair the swimmer with a volunteer for the duration of the program you wish to register for. An Aqua Buddy may be available for any swim program at either complex, any day of the week, based on availability of our volunteers.
Registration will be completed online using our e-PLAY system. To ensure access, please complete the Aquatic Participant Intake Form prior to registering, and wait for approval from an Aquatic Staff member. Please email our Aquatic Staff for more information.
---
Drop-In Activities
Check out our drop-in activities and schedules.
---
Contact
If you have any questions or require more information on Inclusion Services and finding the right program for an individual, please contact:
Marco DeBenedictis
Community Programmer
365-500-3163
Email Marco DeBenedictis
​Related Links​