Join us for Culture Days, a month long celebration happening from September 24 to October 24, 2021
The Town of Aurora is actively collaborating with local cultural organizations to highlight Aurora's arts, culture and heritage scene.
Returning this year is Culture in a Box! Each box contains cultural activities, arts & crafts, and hands-on tactile experiences that can be completed safely from the comfort of your home and while social distancing in the community. Boxes are free to Aurora residents and will be available for pick up on September 25 at our Kick-Off Event in Town Park from 11:00am - 4:00pm (details below). Limited quantity available, proof of address will be required, limit of 1 box per household.
2021 Summer of Culture Event Schedule
New this year! Summer of Culture events.
August 28 - Pottery Demonstrations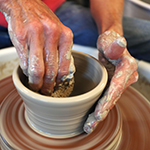 Join Pine Tree Potters' Guild for a fun afternoon of pottery demonstrations! Members will be onsite showing off their skills at throwing a pot and hand building vessels!
Don't forget to also check out the Aurora Historical Society and Aurora Museum & Archives tents to learn about programs they are working on!
---
Where: Aurora Town Park
When: Saturday, August 28, 2021
Time: 12 p.m. to 3 p.m.
Learn more: Pine Tree Potters' Guild
September 12 - Aurora Black Community Association Launch 2.0
Aurora Black Community inauguration celebration will include live entertainment, Caribbean Food truck, refreshments, speeches, recognitions, games, and much more for the whole family! FREE ADMISSION!
It is with great honour that we invite you to the official launch on, SEPTEMBER 12, 2021 at 5:30pm to 7:30 P.M.
ABC believes that the involvement of authentic leaders, allyship, and the entire community can reinforce the value in organizations by helping our community to grow and develop through their recognition and support for diversity, equity, inclusion and love for all people.
Since inception, through our vision we have created a space where questions and conversations can happen safely, respectfully, and where voices and eclectic point of views are heard and acted upon.
We provide practical support, programs, resources and education to our community. We looking forward to doing so much more.
---
When: Sunday, September 12, 2021
Time: 5:30 p.m. to 7:30 p.m.
Where: Aurora Town Park
2021 Culture Days Event Schedule
Check back often as we continue to update the events lists.
September 2021
September 25 - Culture Days Kick-Off
Join us for the official Kick-Off of Culture Days in the Town of Aurora! Our cultural partners have created a fantastic day of performance and programming FREE for the whole family! Don't miss out on your chance for one of our Culture in a Box kits! Limited quantity available on a first come first serve basis at the Town of Aurora tent for Aurora residents.
Location: Aurora Town Park
Time: 11 a.m. to 4 p.mm
On site registration is available. COVID protocols in place.
Featuring performances arranged by the Aurora Cultural Centre and Marquee Theatrical Productions! Don't miss out on visiting the cultural partners booths around the park!
11 a.m. - Opening and Njacko Backo & Kalimbas at Work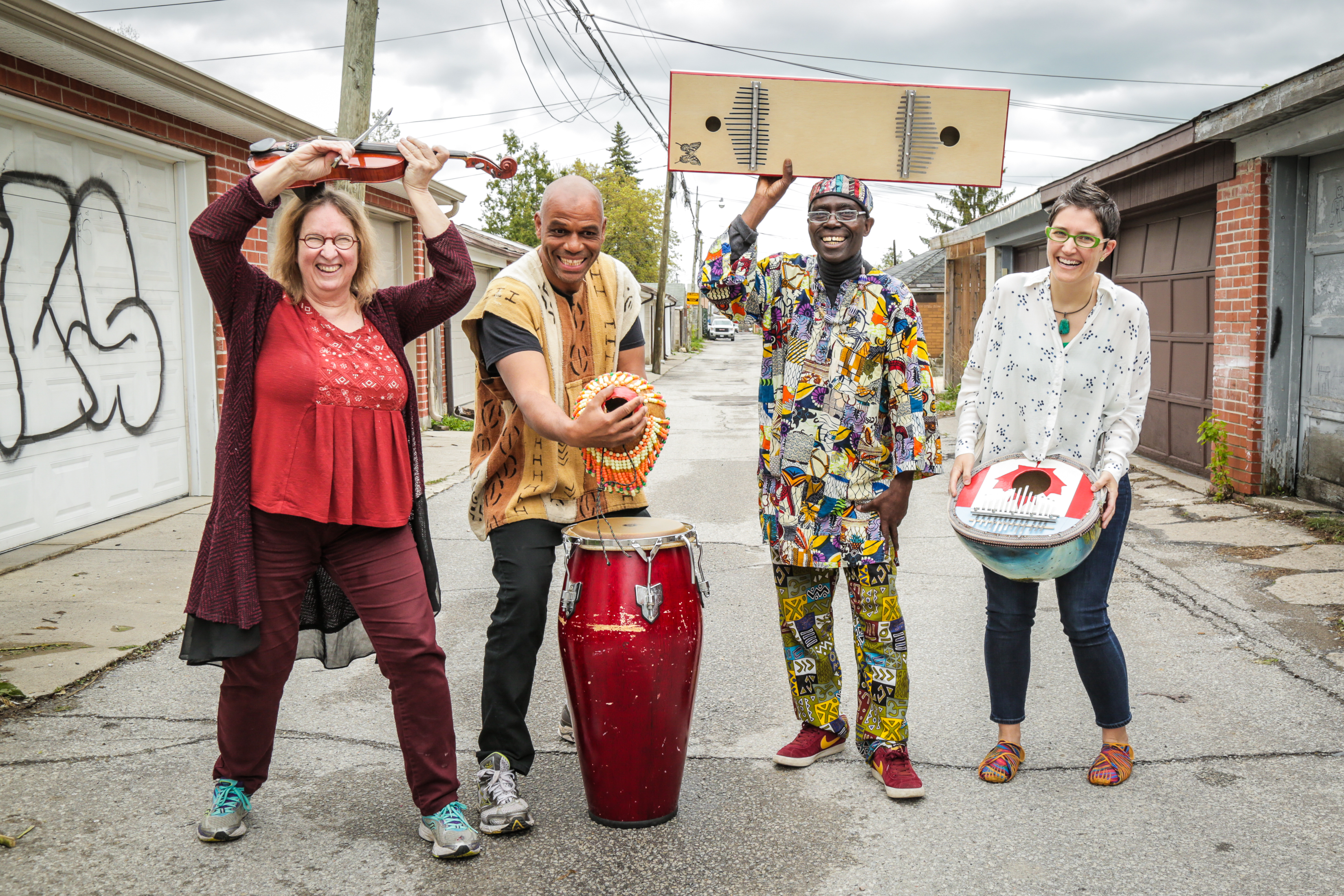 Njacko Backo is a singer, songwriter, storyteller and percussionist originally from Cameroon. Nominated for a 2021 Juno for Best Children's Album, the quartet presents a hi-energy family performance that includes the kalimba, an African instrument with a wooden soundboard and metal keys.
12:30 p.m. – Marquee Theatrical Productions
Marquee Theatrical Productions brings you a Musical Theatre presentation featuring some of Marquee's students ranging in age from 8-to-16-years-old.
They will be performing a highlight selection of numbers from productions including Les Misérables, Matilda, The Lion King, Waitress, Thoroughly Modern Millie and more!
2 p.m. – Sara Thawer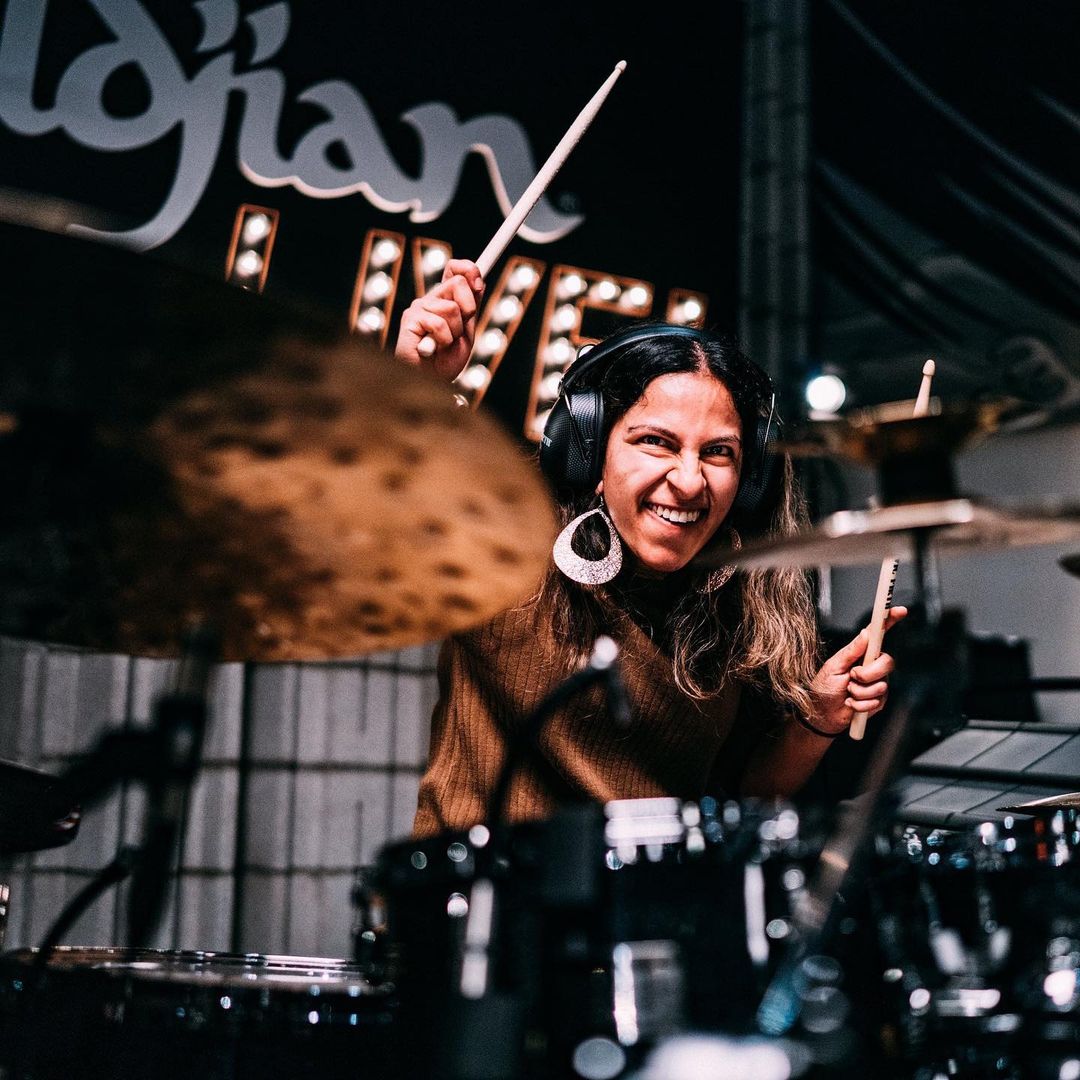 Sarah is a JUNO-nominated drummer and recording artist whose versatile work ranges from jazz and fusion all the way to Indian, funk, R&B, hip hop and Latin to name a few.
3:15 p.m. –KH Kanna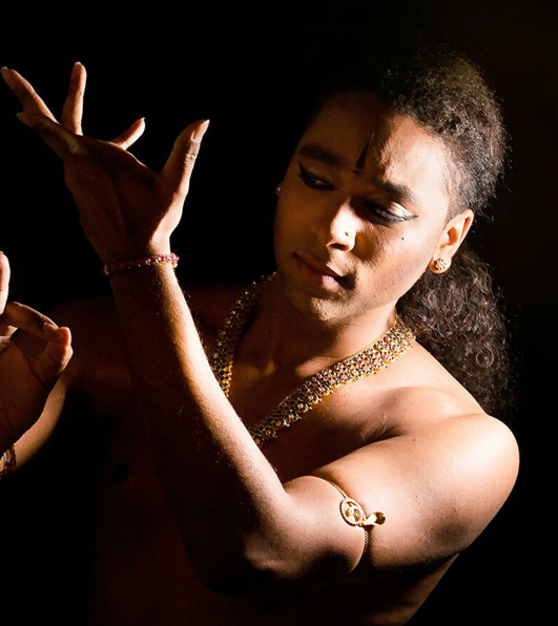 KH Kanna is a Bharatanatyam dancer and choreographer with deep connections to Dancehall, Soca and Hip Hop. He will be presenting a duet with Shobi Ruban, showcasing the rich rhythms, music and storytelling of the Indian Classical dance tradition.
September 25 - Graffiti Dreams: Writing Workshop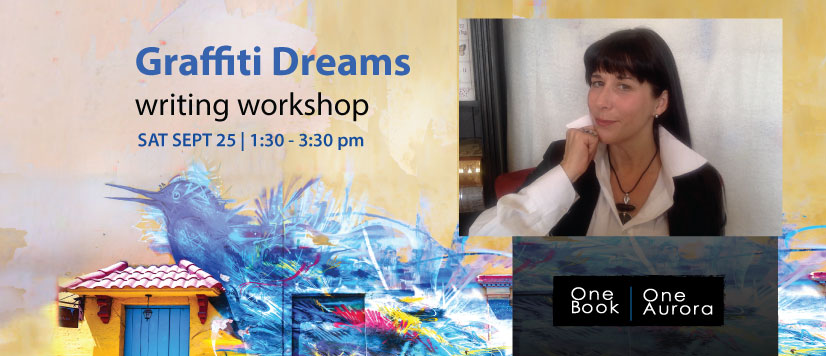 Break the rules of rational thinking. Create literary graffiti with child-like art, visualization and imagination games. Using the magic of metaphor, transform a painful aspect of a character into a rescued beast - vibrant and alive. No artistic or literary experience necessary. Facilitated by Marnie Maguire
---
Supplies: Colourful crayons, chalk or pencils and paper are a must, as is a notebook with pencil or pen.
A PDF of images will be made available for participants to download prior to the workshop.
Time: 1:30 p.m. to 3:30 p.m.
Location: Online
Hosted by Aurora Public Library
September 26 - Call me Human Film Screening and Discussion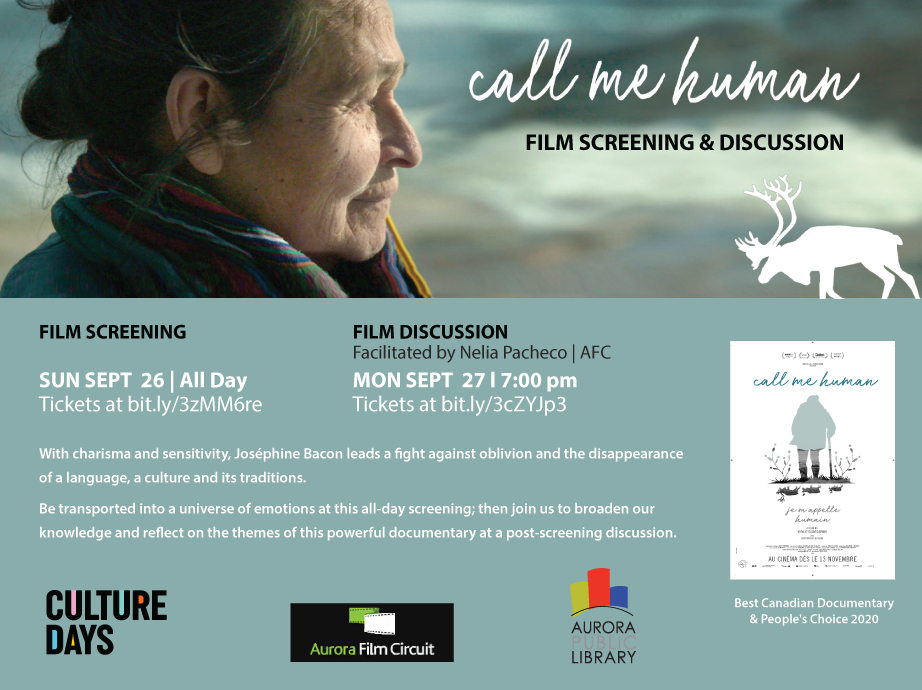 Joséphine Bacon is a writer, poet, storyteller, filmmaker and teacher of the Innu language. With charisma and sensitivity, she leads a fight against oblivion and the disappearance of a language, a culture and its traditions.
Be transported into a universe of emotions at an all-day screening; then join us on Monday to broaden our knowledge and reflect on the themes of this powerful documentary at a post-screening discussion.
Call Me Human is presented through a partnership between the Aurora Public Library and the Aurora Film Circuit (A.F.C.).
All-Day Screening: Sunday, September 26 - Register
Post-Film Discussion facilitated by Nelia Pacheco, A.F.C.: Monday, September 27 at 7 p.m. - Register
September 30 - An Evening with Anna Yin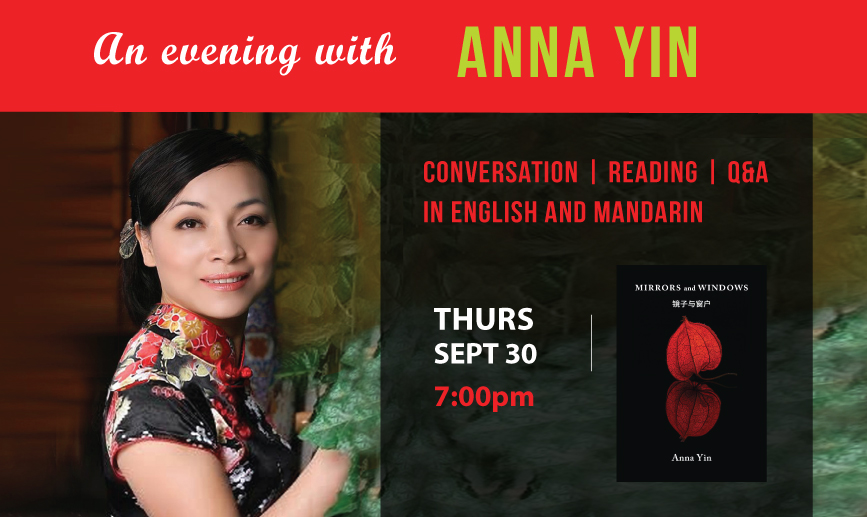 Conversation, Reading, Questions and Answers in English and Mandarin
Co-facilitated by journalist and poet, Yafang Shi
Award-winning poet, Anna Yin, was born in China and immigrated to Canada in 1999. She served as Mississauga's Inaugural Poet Laureate and was Ontario's representative to the League of Canadian Poets. Her poems/translations have appeared in the New York Times, China Daily and CBC Radio. Mirrors and Windows is her 6th book of poetry (her second book of poetry translations).
Mirrors and Windows bridges modern poets of East and West, including 36 English-language poets and 20 Chinese-language poets, with translations provided by award-winning poet, Anna Yin.
---
Time: 7 p.m.
Location: Online
Hosted by Aurora Public Library
October 2021
October 2 - Raku Pottery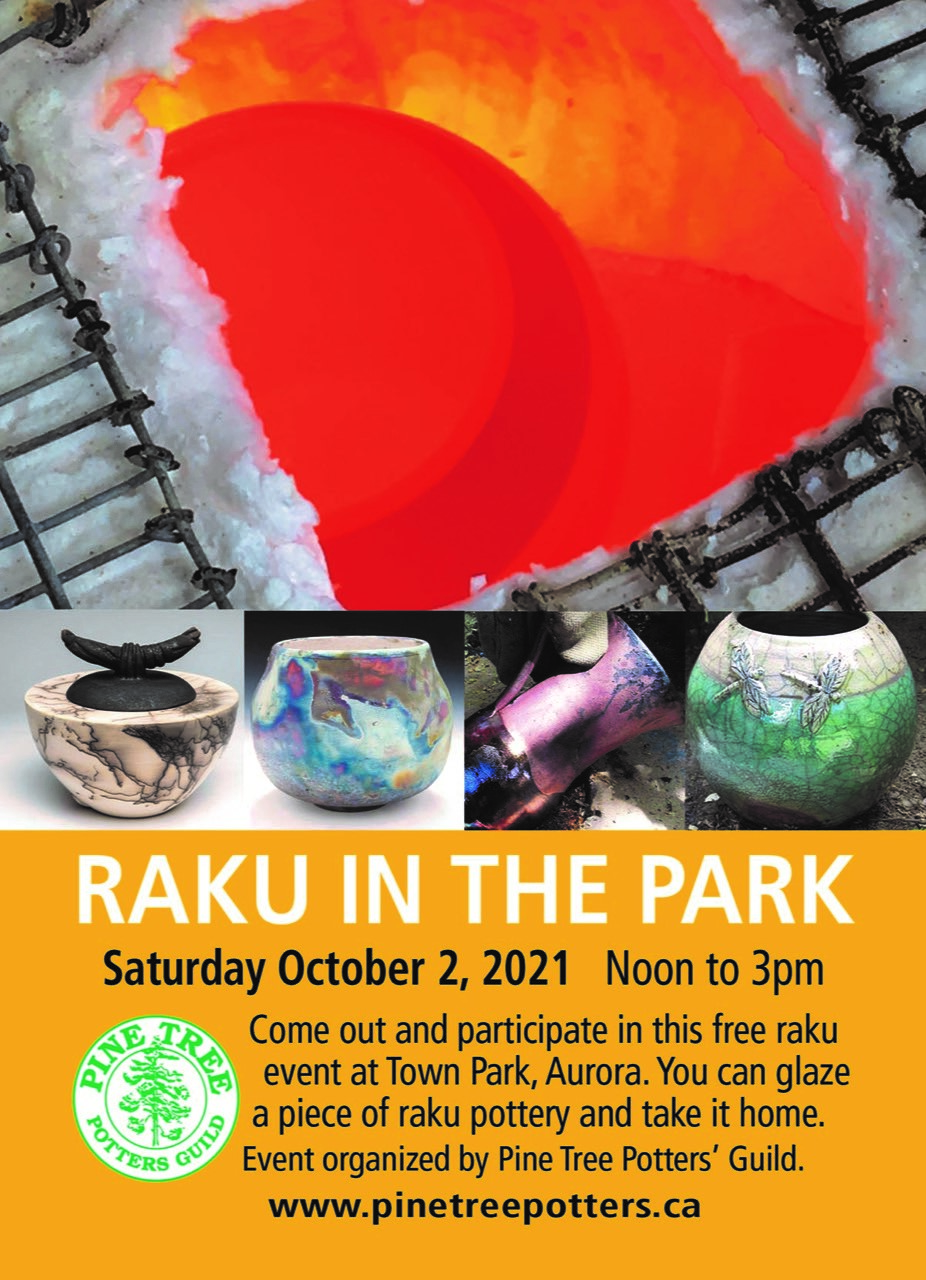 Join the Pine Tree Potters' Guild for a Free Hands On Raku Pottery event.
Choose a prepared tea light holder, glaze it and watch us raku fire it for you to take home.
---
Where: Aurora Town Park
When: Saturday, October 2, 2021
Time: 12 p.m. to 3 p.m.
October 7 - How to Care for Series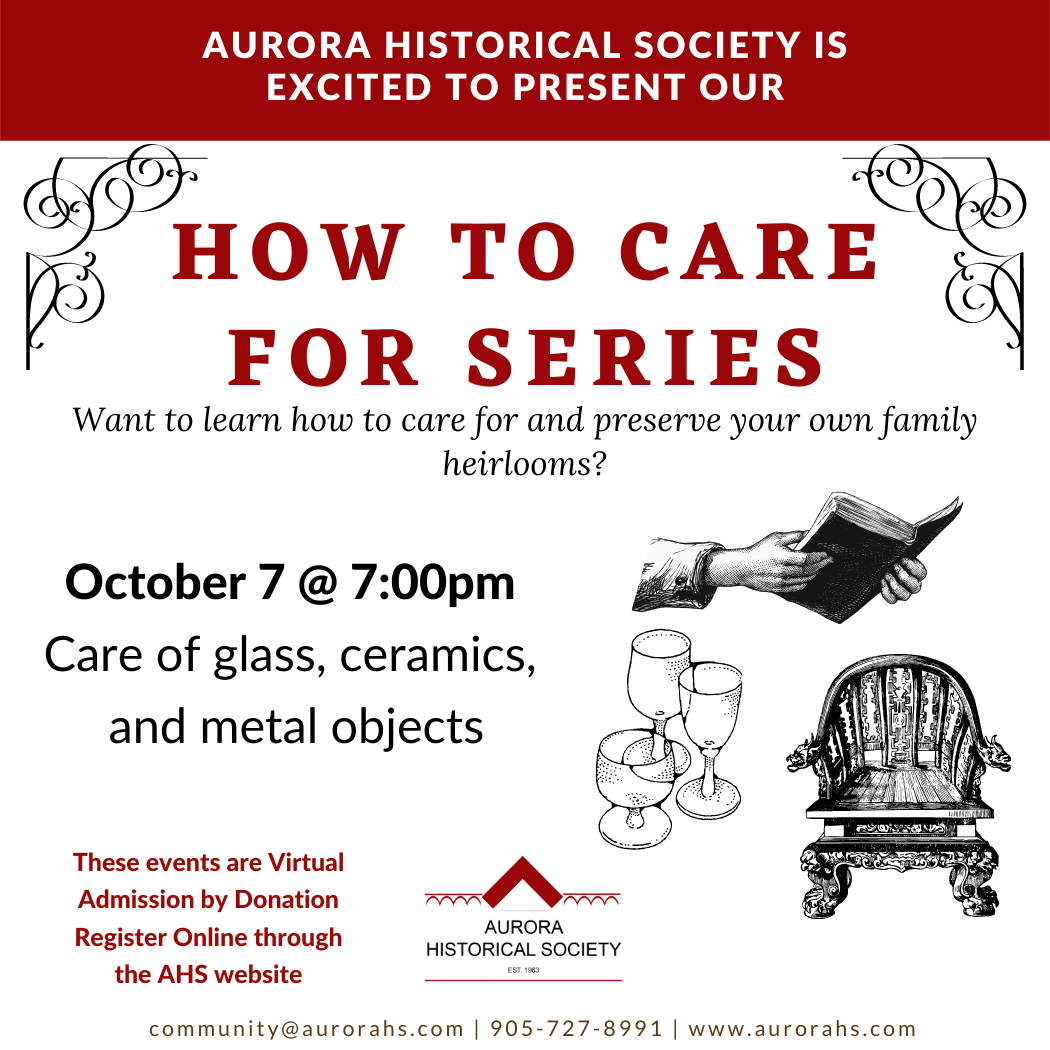 Proper care and maintenance of the heirlooms in your personal collection will ensure that they stay safe for future generations. Show and brag about your favourite family items while learning the simple tips and tricks to preserve them at home. These events will be virtual, pre-registration required. This workshop is the last of a three-part series and will focus on the care of glass, ceramics, and metal objects.
---
Time: 7 p.m.
Virtual – Zoom Registration
Admission by donation
October 23 - Meet Drew Hayden Taylor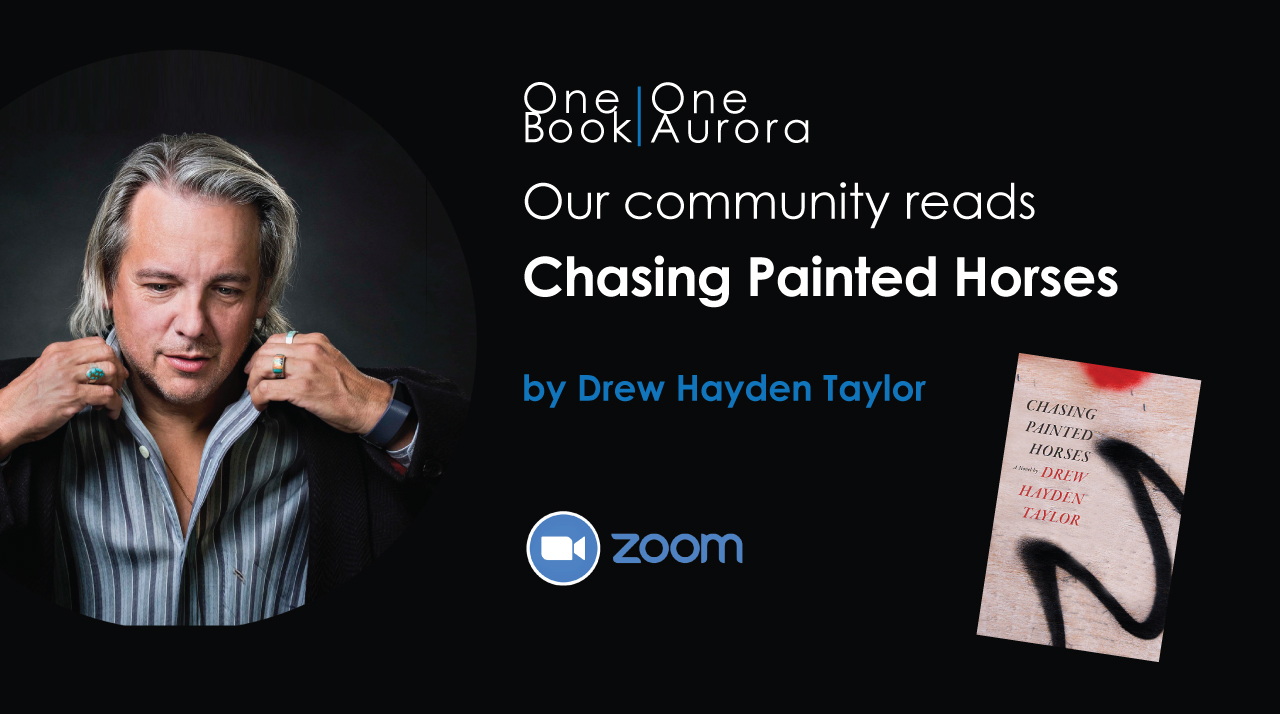 Drew Hayden Taylor is an Ojibway from the Curve Lake First Nations in Ontario. Self-described as a contemporary story teller, his exploration of the storytelling tradition has explored many boundaries. An award-winning playwright, author, columnist, filmmaker and lecturer, Drew's writing combines humour, passion, spirituality and hard-hitting realism. Author event with Q&A.
---
Time: 2 p.m.
Location: Online
Ongoing
Tap Into Your Imagination: Writing Contest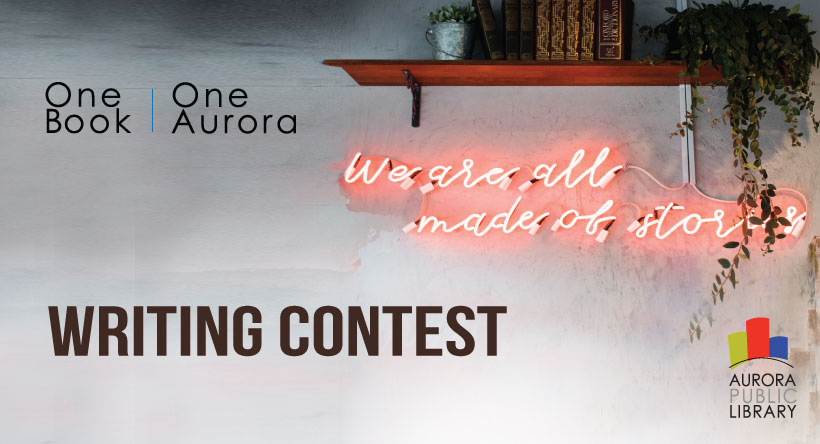 This year's OBOA writing contest invites you to tap into your imagination and draw from elements of fantasy, fairy tale, science fiction or magic realism.
There are two categories: Youth (14 – 17) and Adult (18+). $100 & $50 gift cards in each category. Deadline to submit is Friday, October 1.
Details at onebookoneaurora.com
Art in Unexpected Places: Photography Contest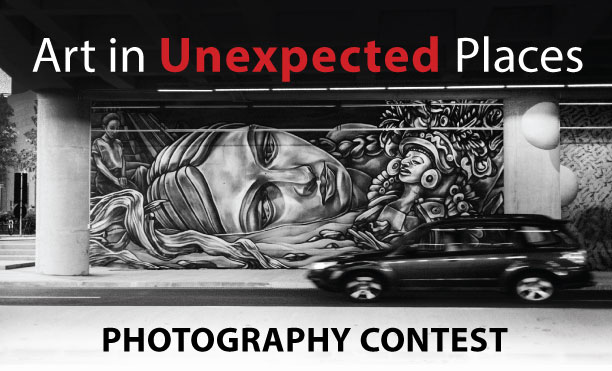 Street art enhances our experience of a place. Whether it's urban graffiti, sculpture or yarn bombing, public art interrupts our daily routine, surprising and delighting passersby. This year's OBOA photography contest invites your photos of art encountered in unexpected places. In partnership with The Auroran.
There are two categories: Youth (14 to 17) and Adult (18+). $75 & $25 gift cards in each category. Deadline to submit is Friday, October 1.
Details at onebookoneaurora.com
Carousel of Horses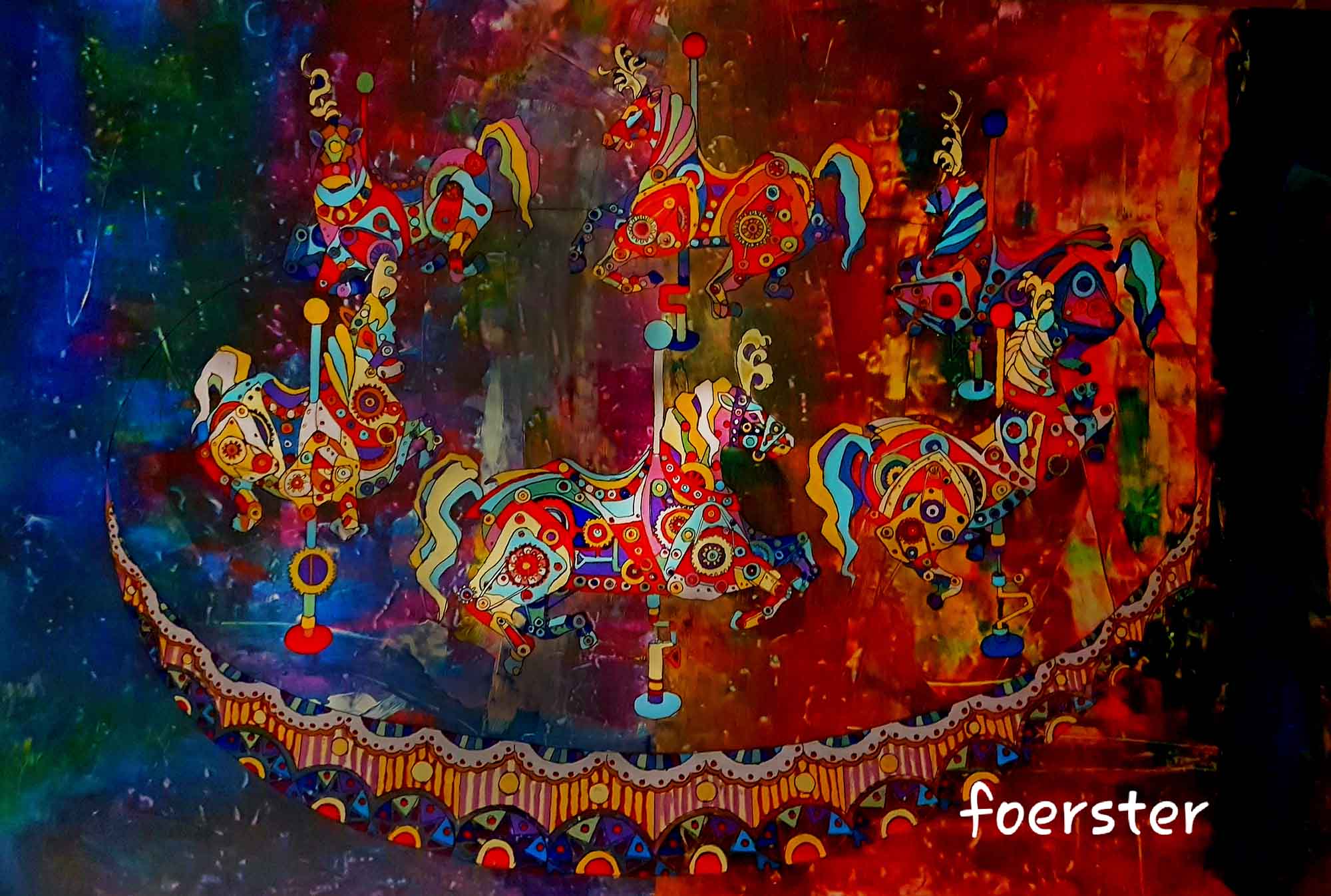 Artists Sue Foerster and Archie Maghsoudloo play with pigment and form, expressing horses as symbol, power and mythology in a joint exhibit of painting and sculpture.
Enjoy the gallery experience from the comfort of your home!
Meet The Cultural Partners
The Town of Aurora is proud to be the home to many diverse cultural partners who provide engaging and unique programs for our community. Learn more about some of these great organizations!
Aurora Black Community Association
One VISION Diverse VOICES
AURORA BLACK COMMUNITY create and form collaboration with partnerships to develop action plans that focus on the improvement of systematic support for Black and BIPOC families. We also provide diversity, equity and inclusion training, education and resources for everyone. We provide a safe place for Black voices, Black youth, parents, guardians, and caregivers to strengthen relationships, build stronger community and cultural connections.
​​
Our greatest fear is not that we won't be invited. Our deepest fear is that we will be invited and be silenced!
"We cannot succeed when some of us are held back!"
Learn more: Aurora Black Community Association
Aurora Cultural Centre
At the Aurora Cultural Centre, we believe that arts, culture, and heritage can play a role in changing our world and our community. This is the fabric that deepens our understanding of our shared experience, and creates a more compassionate society.
The Centre is a registered charity, generously funded in part by the Town of Aurora. We are proud to have earned the Imagine Canada Trustmark, demonstrating excellence in non-profit operations. Our professional staff is supported by a dedicated volunteer Board of Directors and enthusiastic team of volunteers.
Aurora Farmer's Market
The Aurora Farmers Market began in 2002 in the parking lot of Temperance at the suggestion of Councillor Nigel Kean. At that time, there were only about six vendors, including few local farmers. Gradually the market grew and more varied vendors joined.
Today, we have a Board of Directors, a Constitution, two staff and student volunteers. We maintain our status as a " True Farmers Market"! We host approximately forty vendors at any given time, including farmers, food vendors, artisans and community groups.
We have a Children's craft every Saturday. We host Special Events and entertainment approximately once a month.
The market continues to operate at the Town Park location every Saturday from 8 a.m. to 1 p.m. from the beginning of May to the end of October - RAIN OR SHINE!
Aurora Film Circuit
The Aurora Film circuit is a volunteer initiative committed to enhancing arts and culture in the community of Aurora. We are a devoted body of local film enthusiasts who provide our audiences with an alternative experience in cinema. Proceeds from ticket sales support special community projects and programs.
Our Steering Committee works with the Film Circuit to bring you a wide variety of film choices. Film Circuit, a division of the Toronto International Film Festival Group, provides filmgoers outside of Toronto with transformative experiences through access to Canadian and international independent films. With over 180 groups in 165 communities across Canada, Film Circuit is essential in helping TIFF lead the world in building markets and audiences for Canadian cinema.
Aurora Historical Society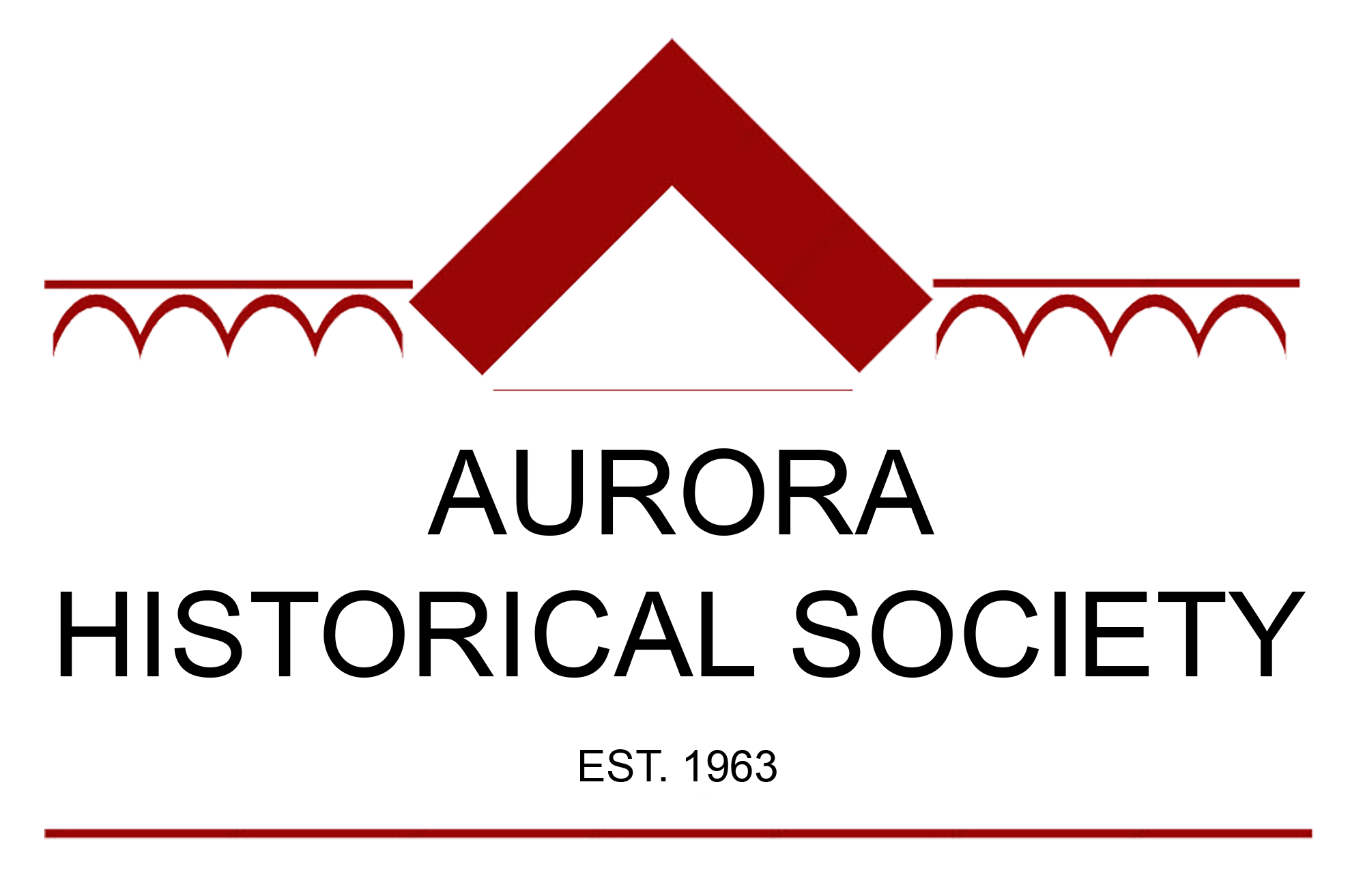 The Aurora Historical Society (AHS) is an independent, volunteer-led, non-profit organization dedicated to heritage education for all ages. Since 1963, the Aurora Historical Society has worked to preserve and promote Aurora's local heritage by offering innovative programming, hosting unique events, and making the town's history accessible through a wide range of exhibitions.
Aurora Museum & Archives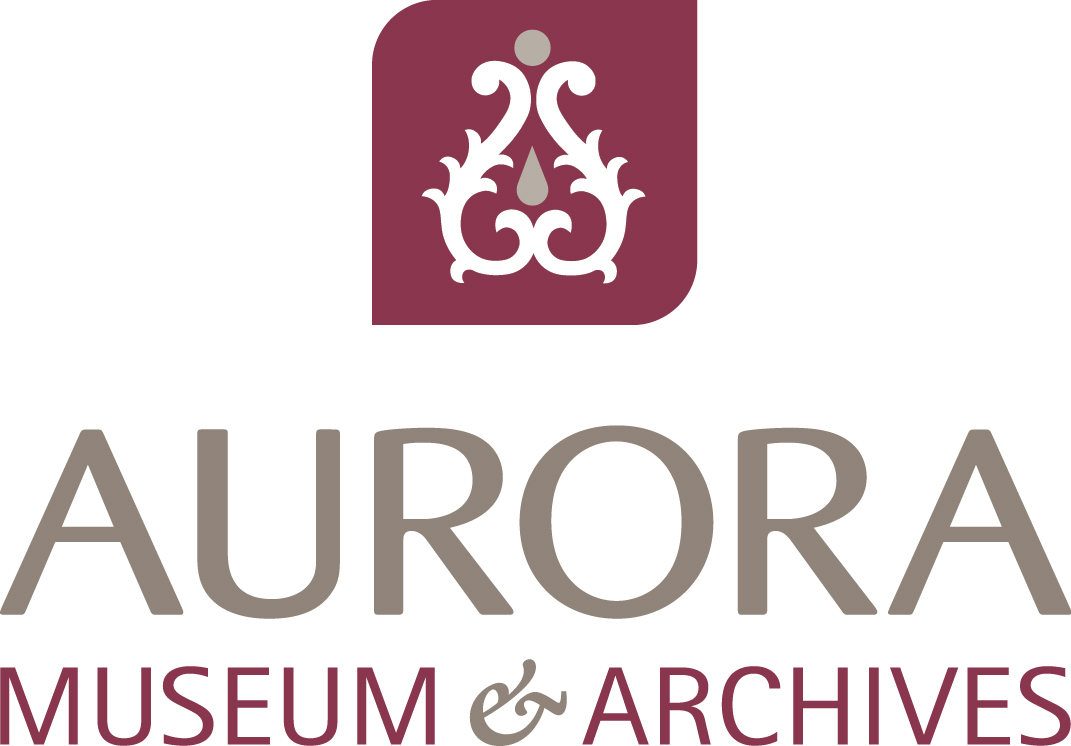 The Aurora Museum & Archives is a municipal run museum whose mission is to collect, preserve, and share the stories of the Town of Aurora.
Currently closed to the public due to Aurora Town Square construction, you can explore our collection, watch documentaries or even take a walking tour by visiting auroramuseum.ca
Aurora Public Library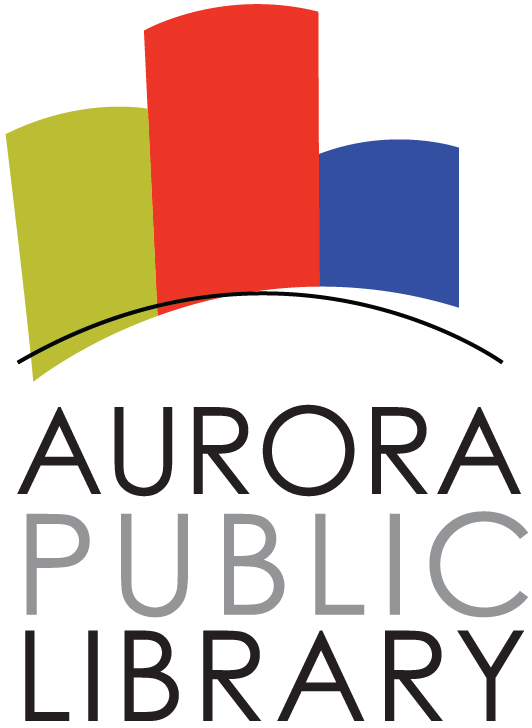 Aurora Public Library builds community by sparking connections, enriching lives and contributing vibrant spaces for discovery.
We offer early literacy programs, vibrant literary and cultural experiences, a creative studio, online learning, extensive print and digital collections, newcomer services and comfortable seating for meeting, collaborating and socializing. Visit us at aurorapl.ca
Aurora Seniors Association
The Aurora Seniors Association is a group of energetic older adults who are very enthusiastic about the programs and activities at the Aurora Seniors Centre.
Operated in partnership with the Town of Aurora Parks and Recreation Department, the Centre's success is based on the Seniors who volunteer their time and Town of Aurora staff. We provide programs, events and activities to benefit and enrich the lives of older adults.
Aurora Sports Hall of Fame
Their Legacy. Our Future!
The Aurora Sports Hall of Fame is a celebration of sport history and excellence; dedicated to the recognition of the important place that sport has assumed within the fabric of Aurora. Every person who values the contribution of sport to our Community and Country is a part of that commemoration.
Explore the Aurora Sports Hall of Fame
Marquee Theatrical Productions
Marquee Theatrical Productions was founded in 2003 by its current Executive Director, Sheryl Thomas. We are an award-winning, registered charitable, community theatre group and performing arts school, located in Aurora, Ontario.
Our goal is to inspire excellence, motivate learning, uplift the human spirit, build confidence and spark a lifelong appreciation for the arts. By helping children develop their artistic talents and coaching them to strive for excellence, we teach them how to achieve – in the performing arts, in school, and ultimately in life.
Marquee Theatrical Productions strives to provide an environment that meets the needs of all children. We believe in the interconnection of physical, mental, social and emotional health and work hard to provide an environment that promotes holistic health and wellness.
Music Aurora
Music Aurora is a registered not-for-profit organization whose mission is to foster a vibrant and active music scene in the community of Aurora and area for the benefit of its residents, local musicians, schools and businesses that support the music industry and live programming.
Music Aurora is 100% volunteer organized and any proceeds go to support Youth in Music in our community.
Pine Tree Potters' Guild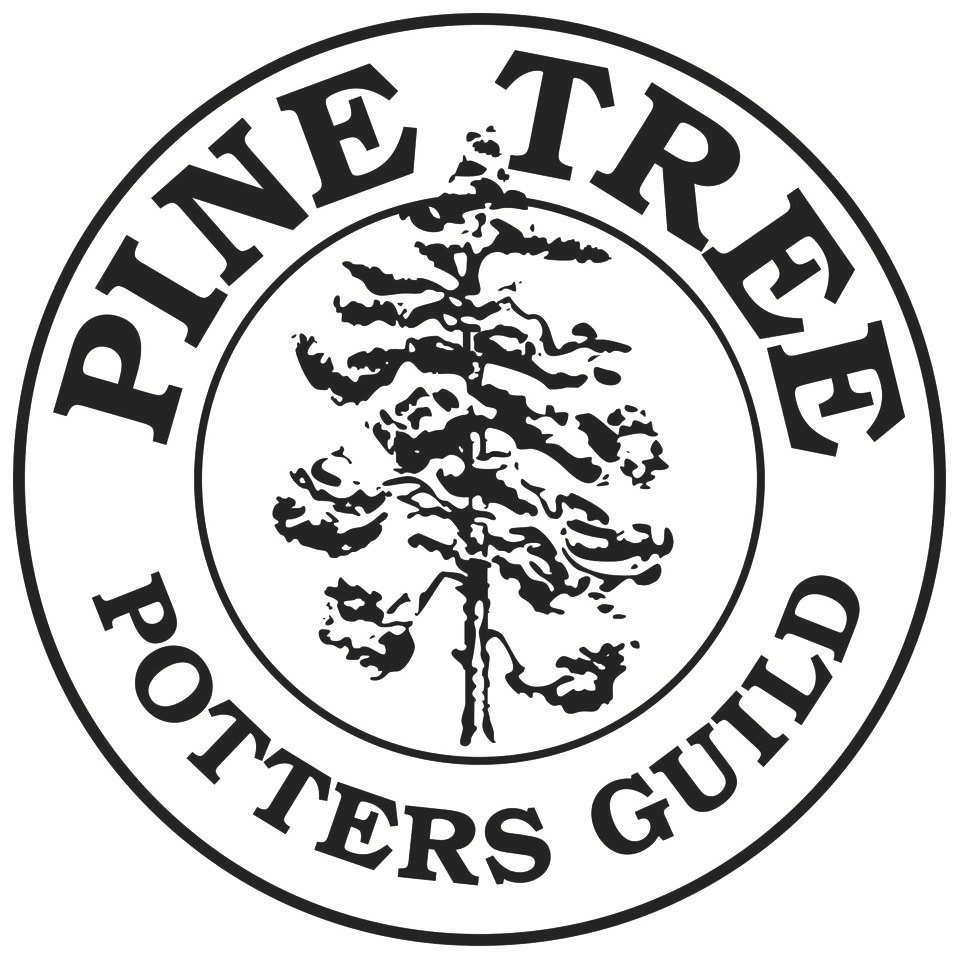 Pine Tree Potters' Guild is a non-profit organization founded in 1979. Dedicated to the preservation and advancement of ceramic arts, the guild has a complete working studio supporting members from Aurora and the surrounding areas.
Society of York Region Artists
The Society of York Region Artists (SOYRA) was founded in September 1987 to provide a forum for artists of all levels to exchange ideas, opinions and assist each other in the advancement of their artistic goals. This is achieved through three annual Art shows, field trips, study groups and instruction by recognized professional artists.
Learn more about SOYRA
Theatre Aurora
Theatre Aurora is a registered non-profit charitable organization that has been operating in Aurora since 1958. We are dedicated to providing affordable, high quality, diverse and relevant theatre that engages the community both as audience, and as creator. We are volunteer run and operated. In 2020, we received the Arts and Culture Award from the Town of Aurora.
Explore Theatre Aurora
York Region Arts Council
The York Region Arts Council's mission is to be the hub for a vital and vibrant arts, culture, and tourism scene in York Region, by giving voice to the diverse artists and cultural organizations in our community through advocacy, education, programming and strategic partnerships.
Learn more about the York Region Arts Council
What is Culture Days?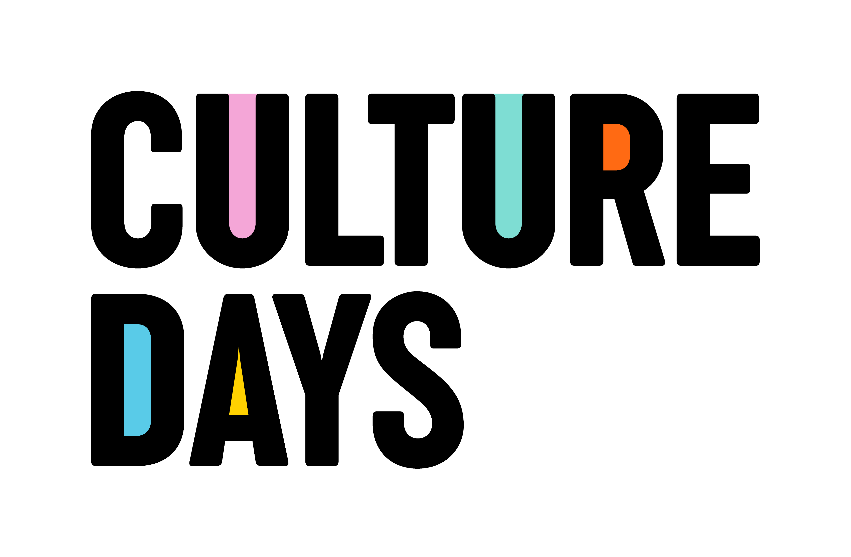 Culture Days is a national celebration of culture that invites the public to participate in hands on and behind the scenes activities that highlight the importance of culture in our communities. Initiated by the Canadian Arts Summit, Culture Days began in 2010 and five years later, it became an independent non-profit.
This year, due to COVID-19 the celebration has been extended to 4-weeks and will include virtual experiences.
How do I participate as a Culture Days activity organizer?
If you are interested in having your event included in the Aurora event listing please send us an email. For more information about Culture Days visit our Culture Days webpage.
Announcement
* all programming subject to change