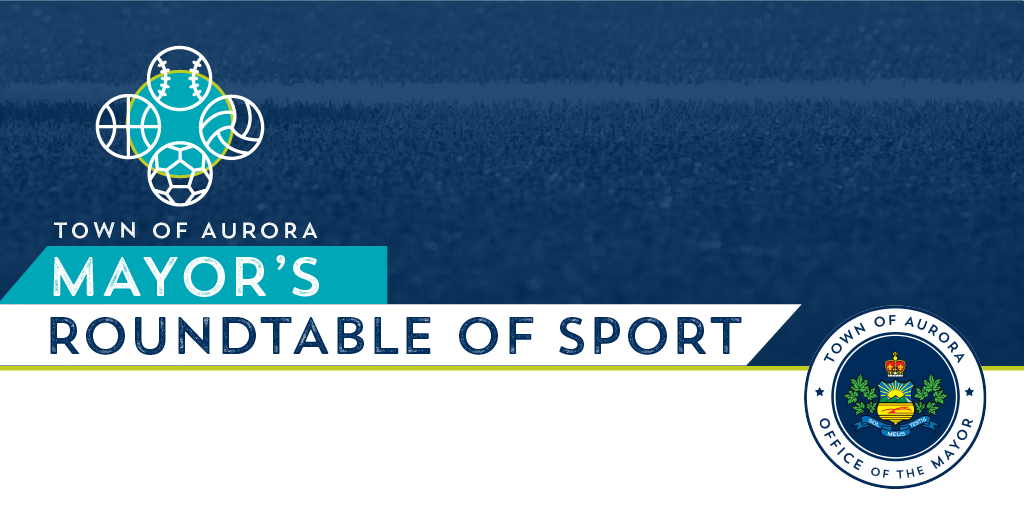 Mayor's Roundtable of Sport
The Town of Aurora recognizes the significant impact that the global health crisis COVID-19 has had on our community and our local sport organizations. The Mayor's Roundtable of Sport launched in 2020 to empower all local sport organizations to work together to move sport forward and find solutions to address the current and upcoming challenges they are facing.
The roundtable will consist of members from local sport organizations, Town staff and members of Aurora Town Council. The meeting will focus on opportunities to collaborate and support sport organizations, how local sport organizations are engaging with their members and the challenges they are currently experiencing. Other key areas of interest will also be discussed.
The Mayor's Roundtable on Sport was created during the COVID-19 health crisis and has continued as an ongoing forum for the group to move forward the priorities of Aurora's Sport Plan, discuss critical topics in sport and demonstrate collaboration within a safe and inclusive environment.
---
Roundtable of Sport - Meetings
Please see below for meeting dates and details.
Wednesday, January 25, 2023
Wednesday, January 25, 2023 - Agenda
Date
Time & Location
Topic
Wednesday, January 25, 2023

5 p.m. to
6 p.m.

Aurora Town Hall

Kick Off the New Year:

1. Welcome & Updates

2. Connecting

What is your organization looking forward to the most in 2023
Where could your organization benefit from more information/support, etc.

3. Findings from Registration Questions

Topics for future
Communication
Feedback

Sport Plan Updated:

1. Sport Leadership & Sport System Sustainability – Upcoming Workshops, Guest Speakers

2. Women & Girls in Sport – Leadership Course, Multisport Girls Only Program, Women's Coaching Circle

3. Sport Tourism Strategy – Update
Wednesday, April 12, 2023 - Pickleball Edition (Open to Community Members)
Wednesday, April 12, 2023 - Agenda
Date
Time & Location
Topic
Wednesday, April 12, 2023

7 p.m. to
8:30 p.m.

Aurora Town Hall

1. Welcome from Mayor Mrakas

2. Parks and Recreation Master Plan Update: Pickleball Specific

3. Pickleball Staff Report

4. Roundtable Discussion and Feedback
Thursday, June 29, 2023
Thank you for your interest to attend this roundtable conversation on sport in Aurora.
Note: This specific meeting is invite only.
Agenda will be updated closer to meeting date.
Wednesday, October 18, 2023
Information will be provided closer to the meeting date.

---
Looking to Participate?
If you are from a local sporting organization and you are interested in attending, please email Hailey Jones.

Questions or Comments
If you have any questions or comments, please email Hailey Jones.