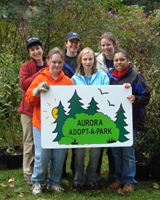 Aurora has over 700 acres of parkland, an outstanding trail system and friendly tree-lined streets that contribute to Aurora's natural beauty and make it a place we're proud to call home.
Many local businesses, service clubs, youth groups, neighbourhood associations and schools have adopted community parks to help preserve, protect and enhance our natural environment.
From tree and shrub plantings to street decorations, there are a number of ways for you and interested groups to become involved in this exciting program.
​For more information please call (365) 500-3134.