Youth Programs
The Youth Division aims to provide engaging and empowering programming for teens ages 12 to 17 including recreation, social leisure, and skill development opportunities. Programs include registered classes, drop-ins, community service, and events. Based on the principals of Positive Youth Development, our programs aim to encourage youth to develop a lifelong interest and active participation in recreation activities.
Registered Programs - Pre-registration is required for registered programs. Register online at e-PLAY or pay in-person at one of our recreation facilities (A.F.L.C. or S.A.R.C.).
Registered Programs
Whether you're looking to learn a new skill, gain a certification, or meet new friends, the Town hosts a range of programs for ages 12 to 17. Check the Program Guide or e-PLAY for the most up-to-date information and program offerings.
Sports Development: Being active is an important part of life at any age. The Town offers a range of programs for teens to learn a new sport, practice skills, or build confidence. Typically programs run 6 to 8 weeks and include a mix of drills, guided instruction and games. Programs can include Archery, Badminton, Basketball, Running, and Physical Fitness.
Life Skills: Whether it's your first time staying at home alone or you just want to learn how to cook an amazing meal, the Town can help. Check out a range of life skills courses include cooking, basic first aid and safety, job prep, technology and science, and acting. Programs offer you the chance to learn a new skill while having fun!
Leadership: Leadership courses can help build skills and strengths to help teens thrive in schools, succeed in future workplaces and become positive, contributing members of our community. Current courses include Red Cross Babysitter's Training, Leaders in Play, Summer Leader and Counsellor in Training programs.
Drop-Ins
The Town of Aurora offers a range of drop-in programs. A drop-in is a program where youth can come and go as they please and with no formal instruction. Drop-in fees depend on the program. Drop-ins are now operating on a pre-registered basis. Please visit our AFLC Drop-In webpage for full schedules and registration details. Youth staff are onsite to supervise the space and facilitate use of space and equipment. We currently offer the following drop-ins.
Youth Open Gym: Teens can access a range of sports equipment in the Gymnasium at the AFLC including basketball, volleyball, badminton, dodge ball and soccer. Full court games are dependent on drop-in numbers and participant interests.
Youth Basketball: One of our most popular drop-ins, this Gymnasium program is a great opportunity to practice skills or play a pickup game. Half and full court games are dependent on drop-in numbers and participant interests.
The Loft: A lounge specifically for teens, this space is open for ages 12 to 17 to hang out with friends, spend time after school, and be themselves.
Rock Wall: Come try something new! Challenge yourself and try your hand at the wall. All climbers must complete a waiver form prior to climbing. Those under 18 must have a waiver signed by a parent or guardian. Closed until further notice. Please check our AFLC Drop-In webpage for the up-to-date schedule. Rock Wall - Waiver Form
Skate Park: Come checkout our 10,000 square foot permanent skate park, located at the Aurora Family Leisure Complex. There are numerous ramps, rails and bowls. Although the park is unsupervised, it is recommended that full gear is worn while at the park, which includes a helmet.
Community Services
It is important for teens to feel connected to their community and see the impact of their contributions. We offer several opportunities for teens to gain community service hours or connect with local community groups.
Youth Engagement Committee: Looking to make a difference in Aurora or ensure that youth voice is heard? The Youth Engagement Committee (Y.E.C.) is a group of nine teens between the ages of 12 and 17 who advise Town staff in ensuring programs and services are youth friendly and engaging. Visit the Y.E.C. webpage to learn more about the committee's role and how to get involved.
Program Volunteers: If you're looking to get coaching or childcare experience, the Town offers a range of opportunities to volunteer in play programs and gain community service hours. Teens can volunteer as Leader or Counsellor in Training (ages 13 and ages 14+) during summer camps or be paired up with an individual with special needs as a Leisure Buddy (ages 14+). For more information on both programs, check out the Program Guide or the e-PLAY website.
Volunteer Fair: Once a year, the Town organizes a volunteer fair for teens to learn about opportunities in the community for them to get involved in. Held at the Aurora Family Leisure Complex, the fair features over 20 community organizations. Representatives from each organization are on hand to speak with teens about the various opportunities.
Youth Events
In collaboration with the Special Events division, the Town offers a variety of youth events across the community. Events are aimed at getting teens involved and provide a safe and fun environment. Past events include movie nights, skateboard and bmx showcases, art shows, and basketball tournaments. Check out the Youth Events webpage for current offerings.
Each year on the first week of May, the Town celebrates National Youth Week. Schedules include free access to programs, special events, and sports tournaments for teens. The Town of Aurora is proud to recognize the contributions of youth to our community and across Canada.
---
The Town of Aurora is a Youth Friendly Community
The Town of Aurora continues to thrive with its latest achievement – designation as a Youth Friendly Community. Aurora is now recognized as a Platinum Youth Friendly Community, joining an elite list of municipalities committed to serving its youth aged 13 to 19.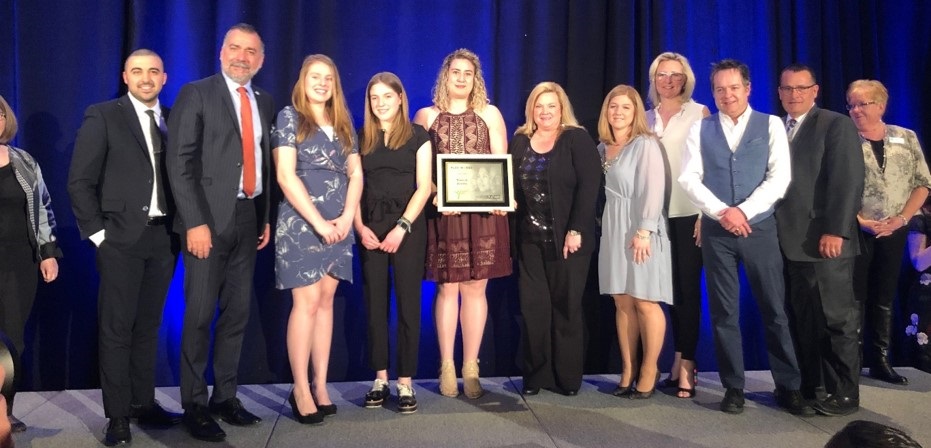 Youth Friendly Community Recognition

The Youth Friendly Community Recognition Program of Play Works acknowledges communities that have invested in various opportunities for youth in recreation, sports, arts, drama, dance, volunteerism and leadership development. Youth Friendly Communities must meet several criteria that demonstrate a strong commitment to engaging youth between the ages of 13 to 19.
To achieve platinum status, communities must recognize that adolescent youth have different needs for play than children or adults do and intentionally develop, fund and sustain programs and services to meet youth needs.
For more information, please contact the Youth Division
What is Play Works?
Play Works is a group of organizations concerned about the future of youth and focuses on bringing back the power of play to youth in Ontario. The Youth Friendly Community Recognition Program recognizes communities across Ontario that meet the changing needs of adolescent youth.
Aurora previously received the Play Works Silver Youth Friendly designation in 2016. The criteria to achieve a platinum designation stems from connecting and empowering youth to express themselves and have a continuous voice in the community. Thanks to the support of our local, youth-serving organizations, schools, and school boards, the Town was pleased to be recognized as part of the 2019 program.
---
Related Links