Stay up to date on collection days. Download the Recycle Coach app below:
Basic Collection Information
Recycling Tote Collection: Holiday Monday's - Change in Schedule 2021​​​
Monday February 15: No collection - GFL will collect on Friday February 12
Monday May 24: No collection - GFL will collect on Friday May 21
Monday August 2: No collection - GFL will collect on Friday July 30
Monday September 6: No collection - GFL will collect on Friday September 3
Monday October 11: No collection - GFL will collect on Friday October 8
Please ensure that all you totes are out to the curb by 7 a.m.

Green bins and blue boxes are collected on a weekly basis. Garbage is picked up every other week based on your location in Aurora. Please refer to our Waste Collection Map for more information.


Please place garbage, green bins, blue boxes and yard waste at the curb no later than 7 a.m. on your scheduled day and by 6 a.m. on Yonge Street and Industrial Parkway (but not earlier than 5 p.m. the night before). Please be aware that the time of collection in your area may change at any time, without notice.
For any questions or concerns, please contact Waste and Recycling.
Bulky Item Pick-up
Non-metal items such as furniture, mattresses, box springs, plastic lawn furniture, toilets and carpeting etc. will be picked up with regular waste collection. Items should be placed at curbside for pick-up on your regular garbage pickup.

If possible, please break-down or separate large/heavy items, bundle small pieces, and tie carpeting and linoleum into rolls measuring no longer than 1.2 metres (4 ft.) and weighing less than 20 kilograms (44 lbs.)
Reminder for Toilet Collection
To ensure your toilet gets collected, please separate the tank from the bowl. If you are unable to do so, please take your toilet to one the Region's depots.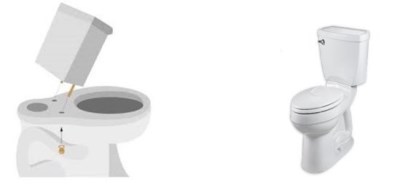 To ensure collection, your toilet must be separated and at the curb before 7 a.m. on the day of collection or after 5 p.m. the night before.
Please contact GFL at 1-866-421-5625 should you have a one piece to ensure collection.
Metal Item Recycling
Large metal items such as appliances, barbecues (excluding propane tanks), bed frames, furnaces, hot water heaters, metal bath tubs, storage sheds and bicycles must be recycled. Please call our contractor, GFL at 1-866-421-5625 to arrange for a special curbside collection. For safety reasons, please remove doors from refrigerators, freezers, ovens, dishwashers, washers and dryers. Please note: If a special collection is not booked, metal items will not be collected.
Glass and Other Sharp Objects
Every year, collection personnel are injured due to broken glass and other sharp objects that are not packed properly. Please help keep our workers safe by packing these items in a sealed cardboard box labelled Broken Glass or Sharp Object and set out with your regular garbage collection.
Construction and Demolition Waste
Construction and demolition waste is not collected at the curbside in Aurora. Construction and demolition waste consists mainly of concrete, brick, asphalt, metals, wood and gypsum (drywall). Help reduce the amount of waste that ends up in a landfill by recycling your leftover building supplies at York Region's Community Environment​al Centre.
Currently concrete, and other Construction and Demolition (C&D) materials like untreated wood, drywall, foam packing (Polystyrene) is accepted for disposal as garbage for a fee at York Region's depots. There will be areas on-site where concrete disposal will be accepted for recycling.
Tire Recycling
Tires can be recycled free of charge at the Georgina Transfer Station and the McCleary Court Community Environmental Centre.
Please note: There is a limit of 10 tires per vehicle.
Illegal Dumping
The dumping of any material on public or private property is illegal and negative to our community and the environment. It costs tax payers money to clean up the affected sites.
If you witness an illegal act of dumping, please lend a hand and record the license plate number and contact Aurora's Bylaw division at 905-726-4751 or the York Regional Police at 905-771-1221.
Anyone convicted of illegal dumping is subject to a fine of up to $5,000.
What happens to your electronics?
Your electronics are shipped to an Ontario Electronic Stewardship approved processing facility where they are dismantled into their separate components. The materials, such as steel, aluminum, copper, glass and plastic, are used to create new products. Hazardous materials are sent for further processing and proper disposal. Alternate drop off sites for electronics
Acceptable Materials for Electronics Recycling
All in one computers
Answering machines
Audio cassette players
Cameras (digital and non-digital)
CD players/recorders
Cellular phones
Closed circuit monitors
Computer key boards
Computer monitors
Computer mouse devices
Computer terminals
Digital picture frames
Disc drives
DVD/Blu-ray players
External hard drives
Fax machines
Home theatre equipment
Laptops
Modems (wireless and wired)
MP3/Digital audio players
Pagers
PDA (cell enabled)
Photocopiers
Portable audio/video players
Printers
Projectors (video, audio, image)
Radios
Scanners
Smart phones
Stereo amplifiers
Telephones
Televisions
Turn tables
Tablet PCs
Typewriters (electric)
Video cameras
VCRs
Webcams​
Unacceptable Materials for Electronics Recycling
​Audio/Video Cassettes/Tapes
CDs/DVDs
Electric Tools
Kitchen appliances
Large home appliances
Medical equipment
Printer cartridges
Vacuum cleaners
Video games
​Permanent locations to drop off your electronics
Please note due to COVID-19 the Town Hall and Aurora Community Centre is not open for Public Drop off. Please visit the York Region Depot facilities to drop off your unwanted electronics.
Town Hall - 100 John West Way
Aurora Community Centre - 1 Community Centre Lane
York Region Depot - 225 Garfield Wright Blvd.
Please note – The Town Hall and Aurora Community Centre will not accept large TVs. The maximum size is 32 inches.​

Starting January 1, 2021 due to new provincial regulations, an amended electronic drop off limit of 50 KG per household per day, will be in effect at all York Region Waste Depots.