The Town of Aurora is committed to protecting our environment and the municipality has taken important steps over the years to improve our practices. The Town of Aurora has several programs that both reduce the Town's greenhouse gas emissions and also adapt to a changing climate.
Learn what we're doing to reduce our impact on climate change and how you can help by exploring the topics below.
Blue Dot Initiative
The Town joined the Blue Dot movement in 2016. The Blue Dot movement is a campaign based on the idea that everyone in Canada deserves the right to a healthy environment, including clean air and water, and a say in decisions that affect our health and well-being.
Climate Emergency
In October 2019, the Town Council joined 457 Canadian municipalities and declared a Climate Emergency. Those cities, have established a goal of reducing GHG emissions by 80 percent by 2050, as per the Paris Accord. The declaration solidifies the Town's commitments to implementing all the environmental plans completed or under development, such as the Corporate Energy Conservation and Demand Management Plan, the Corporate Environmental Action Plan, the Community Energy Plan, the Natural Heritage System Study and the Climate Change Adaptation Plan.
Community Energy Plan
The Town is developing a community-wide energy plan that will create a GHG emission inventory, forecast, setting GHG emission reduction targets, and come from and strategies on reducing those emissions. The analysis is looking at residential, commercial and industrial energy use in the Town, and estimates different energy consumption scenarios in the future. The Town has engaged a stakeholder working group to support the development of the plan, which includes experts in the field, an Aurora Town Councillor and an Aurora resident. For more information the Community Energy Plan.
Corporate Environmental Action Plan (CEAP)
The Town of Aurora has a Corporate Environmental Action Plan (CEAP), a five-year plan that will allow the Town meet its environmental goals. The plan serves to protect and enhance the natural environment, promote environmental sustainability, integrity and conservation of resources and create a practice of environmental stewardship within the community.
Annual Environmental Action Plan-Progress Reports
Corporate Energy Management Plan and GHG Emissions
The Town completed a 5-year plan in the summer 2019 that focuses on reducing the energy and GHG emissions from the Town's owned facilities and fleet vehicles. This includes the Town Hall, community centres, library and other facilities that the Town owns and operates. Fleet vehicles include over 250 vehicles, heavy and light equipment for all operational divisions. In addition, the Town has been annually monitoring its energy consumption and GHG emissions since 2011.
Annual Energy Consumption and GHG Emissions Report
Electric vehicle charging stations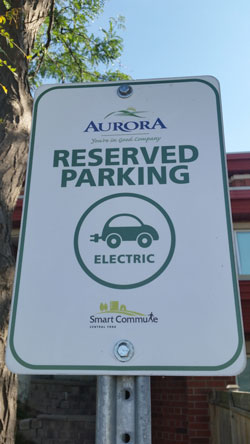 The Town of Aurora has installed two publicly-accessible Electric Vehicle (EV) charging stations.
EV drivers will be able to 'fill-up' their vehicles at these stations, free of charge.
Station 1: Aurora Town Hall, 100 John West Way, Aurora, ON
Hours: Use of the Electronic Vehicle chargers are free to the public between the hours of 7 a.m. to 12 a.m.

Description: One Level 2 charger
Station 2: Aurora Community Centre, 1 Community Centre Lane
Hours: Use of the Electronic Vehicle chargers are free to the public between the hours of 7 a.m. to 12 a.m.
Description: One Level 2 charger
Station 3: Joint Operations Centre, 229 Industrial Parkway North
Hours: Use of the Electronic Vehicle chargers are free to the public between the hours of 7 a.m. to 12 a.m.
Description: Four Level 1 chargers
For more information, please contact 905-727-3123 Ext. 4382
LEED® Design at Town Facilities
All new facilities owned by the Town are being built to the LEED® standard (Leadership in Energy and Environmental Design). It is an internationally recognized green building certification system. It ensures that a building or community was designed and built using strategies aimed at improving environmental performance: energy savings, water efficiency, GHG emission reduction, improved indoor environmental quality, etc.

The Joint Operations Centre (JOC) received a LEED® Gold Standard.
Partners for Climate Protection
The Town is a member of the PCP program and is looking to fulfil the programs five-milestone framework. The Milestones include: completing a greenhouse gas (GHG) emission inventory and forecast, setting a GHG reduction target, developing a local action plan, implementing the plan, and monitoring progress and reporting results. The Town is currently underway for Milestones 1, 2 and 3 through our Community Energy Plan.
Mayor's Energy Challenge: Ontario's Energy and Water Reporting and Benchmarking (EWRB) for Aurora Businesses
The Ontario's Energy and Water Reporting and Benchmarking (EWRB) program requires owners of large commercial, industrial, multi-unit residential and other prescribed types to report their building's energy and water consumption data to the Ministry of Energy, Northern Development and Mines.
It allows building owners to benchmark their building's energy and water consumption usage against industry trends, identify energy and water efficiency opportunities, and save money by tracking usage.Benefits of benchmarking your building's energy and water include the ability to:
Reduce operating costs over the long term

Establish a baseline for measuring improvement in consumption

Set a target to reduce greenhouse gas emissions

Improve energy and water conservation awareness among building owners, tenants and visitors

Participate in green building certificate programs and other sustainability initiatives
Find more information on who needs to report and how to report it.
Important EWRB Updates
For the 2020 reporting year, the Government of Ontario will accept the submission of data to the EWRB initiative until October 1, 2020.
Please note that the ministry has amended O. Reg. 506/18 to delay the roll-out of the Energy and Water Reporting and Benchmarking initiative to buildings between 50,000 and 100,000 square feet until 2023, allowing three additional years for small building owners to prepare for reporting their energy and water usage data.
Help with Reporting
ENDM website has a reporting checklist and guide available for more information.
For more information on how to report your buildings energy and water consumption, visit Guide to Energy and Water Reporting.
You can update your building's reporting lead contact information on the website.
Contact
You can learn more about the regulation by visiting Province of Ontario's Energy and Water Reporting Benchmarking. If you require further assistance support is provided by:
Solar PV systems at Town Facilities
Solar Photovoltaic (PV) systems have been installed at a total of four Town facilities as a means of renewable generation and reducing the Town's carbon footprint. Agreements are in place using the Microfit, Net Metering and lease agreement models.
Solar PV generation summary:
Aurora Town Hall: 10 kW
Aurora Public Library: 10 kW
Joint Operations Centre (JOC): 36 kW
Stronach Aurora Recreation Complex (SARC): 500 kW
Annual electricity generation from all sites from 2014 to 2018: