Welcome to the Office of the Mayor!
Mayor Tom Mrakas was sworn-in on Tuesday, November 15, 2022.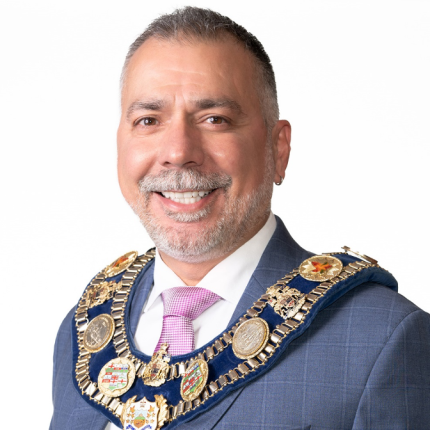 On behalf of The Town of Aurora and Aurora Town Council, I would like to welcome residents and visitors to our website.
This site offers an abundance of information about life and business in Aurora, a beautiful community with an ideal combination of small town friendliness and modern urban amenities.
If you have questions or concerns, I would be happy to speak with you.​​​​
Tom Mrakas
Mayor of Aurora
Email Phone: 905-727-3123 ext. 4746
Website
About Mayor Mrakas
Mayor Mrakas is currently serving his second term as Mayor of the Town of Aurora. Prior to being elected as Mayor in 2018, he was a Councillor from 2014 to 2018. Mayor Mrakas represents the Town of Aurora at Regional Council as part of his Mayoral duties.
Mayor Mrakas has resided in the Town of Aurora for over 14 years and has been actively involved in the community. He has volunteered and participated in several fundraising and community events such as the Magna Hoedown, the Terry Fox Run, the Big Bike for Heart and Stroke and many more
Some highlights of Mayor Mrakas' recent work with the Town of Aurora include:
Adopting a Town-wide anti-idling policy
Introducing a motion to deal with the LDD moth infestation
Introducing a Climate Change Action Plan
Chairing a Mayor's roundtable on Sport
Introducing a public art policy
Creating the Aurora Business Continuity Task Force to support businesses during the pandemic
Creating and chairing the Small Urban GTHA Mayors group consisting of 14 Mayors across the province with populations of less than 100,000 in response to COVID. The group continues to meet and respond collectively to emerging issues
In addition, Mayor Mrakas represents the Town of Aurora at York Regional Council and has served on the following Regional Committees:
Audit Committee
Housing Affordability Task Force
Housing York Inc. Board of Directors
Planning Advisory Committee
Mayor Mrakas is also recognized provincially and nationally for his work on OMB reforms and served as Chair of the OMB Working Group and Planning Committee. This committee included municipal delegates from across Ontario who advocated on behalf of municipal governments for greater control in land use planning disputes and decisions affecting their communities.
Prior to entering politics, Mayor Mrakas ran a small business and understands the importance of supporting small business and their contributions to local economy. He supported the revitalization of Aurora's downtown core, Aurora Town Square and Cultural Precinct plan.
Mayor Mrakas believes in leadership that delivers results by actively engaging the community in identifying priority issues and working collaboratively with colleagues to implement solutions to those issues.