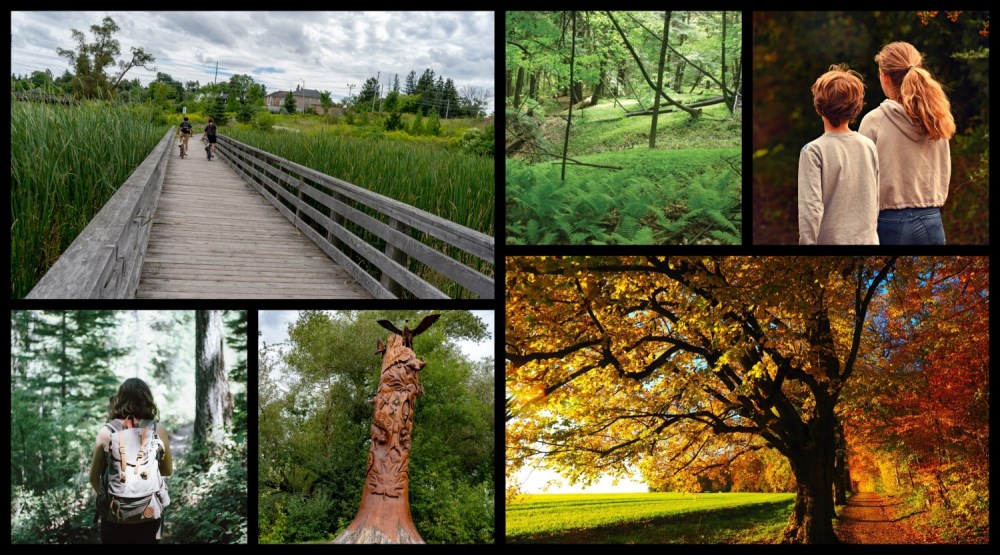 Aurora's Parks and Trails
Aurora has an extensive park and trails system and many natural areas that connect residents and visitors to nature and the community.
From landscaped public parks to environmentally sensitive river valleys meandering throughout the municipality and the Oak Ridges Moraine there is something for everyone.
The Town of Aurora currently manages over 62 parks encompassing more than 800 acres. Connecting many of the parks is a trail system of approximately 62 ​kilometres designed to accommodate joggers, hikers and cross country skiers. The Town is continuously working towards connecting our trails to the Regional trail system with trails that can take you all the way to East Gwillimbury to the North and Richmond Hill to the South and beyond.
View our Aurora Parks, Trails and Facilities interactive map.
As Aurora continues to grow and expand, so too, do our Parks and Trails. In the North Eastern section of Aurora a wildlife park is being developed that will include trails, boardwalks and lookouts is currently under construction.
New - Aurora Wildlife Park
The first phase of the Aurora Wildlife Park construction is underway. Works include trail construction, boardwalks, fencing and planting of trees and shrubs. While this park is under construction we ask residents to respect the security fencing and signage, put in place for public safety.
Questions or concerns can be directed to the Parks Division, Operational Services, 905-727-3123 ext. 3227
About the Aurora Wildlife Park
The Aurora Wildlife Park will be a destination for people interested in bird watching and experiencing nature.
The parkland is a large corridor of grasslands, marsh and wetlands tucked between two housing developments in Aurora's 2B and 2C developments on the north side of Wellington Street East, between Bayview and Leslie Street. The Ministry of Natural Resources and Forests has designated the area as a Provincially Significant Wetland.
Guided by the Town of Aurora's Wildlife Park Feasibility Master Plan, over the next few years additional wildlife habitat will be constructed including three new controlled wetland cells (ponds) and the creation of a system of trails, bridges, boardwalks and several lookouts.
The Aurora Wildlife Park is based on a proposal developed by renowned local resident, Landscape Architect and Environmentalist, David Tomlinson.
In 1998, Mr.Thomlinson brought a full proposal including the design for this wildlife nature reserve in Aurora. Mr Tomlinson has been studying and monitoring these lands long before residential development arrived and has intimate knowledge of the flora and fauna residing on the lands. He developed a comprehensive plan which supports and enhances the natural ecology of lands and the animal life both residing and visiting this important habitat area. This plan was subsequently developed into the Feasibility Master Plan.
Parks and Trails Downloads