Frequently Asked Questions (FAQ'S)
General Inquiries
What does it mean to declare a state of emergency in a municipality?
The Mayor can declare an emergency that exists in the municipality to protect property, health, safety and welfare of the community. By declaring a state of emergency this allows local, regional and provincial governments to access specific resources as needed and deal with the crisis at hand.

At this stage the declaration of emergency has no financial implications. Should special funding become available the declaration allows us to react quickly to allocate funds.
Are essential services affected?
Essential services such as water, wastewater, roads and solid waste collection services are not affected.
Where can I get tested for COVID-19?
Please visit our COVID-19 Assessment Centre Page for a list of assessment centre locations and information.
Who do I contact if I have questions about the Provincial Order?
Questions regarding the Provincial Order can be directed to 1-888-444-3659
Where can I find information on COVID-19 Response Framework?
Information on public health and workplace safety measures for each zone under the colour-coded response framework can be found on the Government of Ontario website.
How will York Region distribute vaccines to residents once they are available?
To reduce the risk of severe illness and death for the most vulnerable populations, the Province has rolled out a three phase vaccination plan. The Province is currently in phase one of its vaccination distribution. York Region Public Health is following the provincial direction on the COVID-19 vaccine roll out. Additional communication about the phases will be sent out through all levels of government.
Phase one includes the vaccination of long-term care, high-risk retirement, and First Nations elder care residents across Ontario along with healthcare workers in hospitals, long-term care homes and retirement homes and remote Indigenous communities. The Province has also indicated it will prioritize regions in the Red-Control and Grey-Lockdown Zones that have the highest rates of infection. Ontario is currently in Phase one of the vaccination distribution.
Phase Two incudes mass vaccination sites to be set-up to administer doses. Priority groups in phase two are older adults, beginning with those over the age of 80 and decreasing in five-year increments. Those living and working in other high-risk congregate settings, essential workers beginning with front-line essential workers, individuals with high-risk chronic conditions and their caregivers and other communities facing barriers related to the determinants of health across Ontario who are at greater risk of COVID-19. Phase two is expected to start March of 2021.
Phase Three includes vaccines widely available in places other than mass vaccination sites, such as family doctor's offices and pharmacies. Vaccinations will be available for anyone who wants one. Phase three is expected to start August 2021.
For more information visit the Province of Ontario's vaccination program. For detailed information on York Region's COVID-19 vaccinations visit York Region's COVID-19 Vaccination page.
Are Isolation Centres available to residents?
York Region has a COVID-19 Voluntary Isolation Centre, available to residents facing complex barriers who may otherwise be unable to safely self-isolate away from others in their household. There is no cost for eligible residents to stay at the Centre and the stay is entirely voluntary. The Centre is funded by the Provincial Government and operated by the Canadian Red Cross on York Region's behalf.
Call Access York at 1-877-464-9675 ext. 72500 (TTY 1-866-512-6228), or email accessyork@york.ca to find out if you are eligible to self-isolate at the Centre and/or receive additional supports during your self-isolation period.
For more information view the York Region Isolation Centre webpage.
Is there any emergency housing during the cold weather?
York Region's Cold Weather Response Plan provides a safe and welcoming space for residents experiencing homelessness during the cold weather season by:
Enabling activities by service providers that safeguard residents experiencing homelessness from cold weather
Alerting residents experiencing homelessness and the public that cold weather conditions are expected or currently exist
Supporting residents experiencing homelessness to take appropriate precautions
During a Cold Weather Alert, all individuals experiencing homelessness are asked to contact the Transitional Shelter Intake Line at 1-877-464-9675 ext.76140 TransitionalShelter.Line@york.ca
The intake line will be answered by York Region's Outreach Diversion Team on weekdays from 8:30 am. to 4:30 p.m. and Salvation Army staff outside of normal business hours, including evenings, weekends, and statutory holidays. Families with children should contact Leeder Place Family Shelter by calling Blue Door at 1-888-554-5525
Property Tax and Utility Bills
Can I pay my property taxes and water bill online?
Residents and businesses can continue to pay their tax and water bills online through their financial institution's online banking*. You can mail in cheques or place them in the secure drop box at Town Hall which is located outside the front doors.
*For paying property taxes, the payee name is Aurora Taxes and your account number is your 19 digit property roll number with no spaces or decimals and can be found in the upper left corner of your property tax bill.
*For paying your water account your payee name is Aurora Water and your account number is the 10 digit number which is located in the upper left corner of your water bill.
Can I get an extension to pay my property taxes or water bill?
The Town of Aurora has supported residents and businesses during the COVID-19 pandemic by providing additional property tax relief measures for the 2020 property tax installations. At this time, all deadlines to apply for relief measures have passed.
Please contact our tax department with any questions.
Water bills will continue to be sent out and we ask that residents still continue to pay to the best of their ability. Water bills that are not paid at the due date will still be moved to the property tax account.
Please contact our water department with any questions.
Can businesses defer their tax payments during the COVID-19 crisis?
For 2021, The Town is continuing to offer interim property tax payment deferrals for residential property owners that have been financially impacted by the COVID-19 pandemic. An application is required. More details are available on our tax webpage.
Please contact our tax department with any questions.
Water bills will continued to be issued and due for residential residents on a quarterly basis and commercial residents on a by-monthly basis. We ask that all residents pay these bills by the due dates to the best of their ability. If residents are unable to do so, one time interest of 5% will be applicable and the water bill will be transferred to the property owner's tax account for payment at a later date. Please note interest of 1.25% is applied to outstanding property tax balances on a monthly basis. More details are available on our water billing webpage.
Please contact our water department with any questions.
Can I order a Tax and Water Certificate?
Tax certificate requests along with the cheque should be mailed to the attention of Access Aurora at 100 John West Way, Aurora, Ontario, L4G6J1 or placed in the secure drop box at Town Hall. For more information email Access Aurora or call 905-727-1375.
Business and Community Support
Is there any additional support for businesses?
The Town of Aurora in partnership with the Aurora Chamber of Commerce has created a specialized task force to help support the local economy and provide assistance to small businesses in Aurora. The Aurora Business Continuity Task Force will bring together business professionals with global, national and local experience to help find creative ways to assist Aurora's small businesses.
For more information visit our Aurora Business Continuity Task Force page or contact the Aurora Chamber of Commerce for more information.
Is there any Community Support I can access?
The Town of Aurora recognizes the significant impact that the global health crisis COVID-19 has on our community. Community leaders in Aurora have come together to form the Aurora Cares Community Action Team. This team will assess the emerging needs of the most vulnerable and at risk in our community. The goal is to help fill in the gaps where needed and add to what is already being provided by the provincial and federal government. For more information on the Aurora Cares Community Action Team visit our Aurora Cares webpage.
The Town of Aurora has put together a list of external agencies that may be available to provide support to members of the community during the current COVID-19 State of Emergency.
Click here to view the community resource list.
How can I volunteer or support our community during the COVID-19 Pandemic?
If you would like to volunteer or support our community please contact Neighbourhood Network at 905-726-3737 or visit the Neighbourhood Network webpage for a list of community needs.
Customer Service (Access Aurora)
Can I obtain a Marriage Licence?
The Town of Aurora will resume issuing marriage licences. This service will be offered on an appointment basis only. Limited appointments for marriage licences will be made available each week from Monday to Friday during regular business hours.

To book an appointment to obtain a marriage licence please contact Access Aurora at
905-727-1375 or email Access Aurora
Can I get a document Commissioned?
The Town of Aurora will assist customers seeking the commissioning of documents by appointment only. Please call Access Aurora at 905-727-1375 to request a commission appointment. Commission appointments will be available on Tuesdays and Thursdays during regular business hours.
Please note the Town of Aurora does not provide "Notary" services to the public. For public notaries, please refer to your local yellow pages.
To book an appointment for a commission appointment please contact Access Aurora at
905-727-1375 or email Access Aurora.
Recreation, Arts, Culture and Events
Will I be refunded for cancelled programs, camps and permits due to COVID-19?
Refunds will be issued for all cancellations resulting from facilities closures and memberships will be placed on hold until full services resume. Participants who paid by credit card will automatically be refunded to the same credit card. If you paid by another method (cash, debit, cheque) you will be contacted and offered the choice of a credit to your account or a refund by cheque. Any applicable refund fees will be waived.
What will happen to my Club Aurora membership?
Club Aurora will reopen on Monday, March 1, 2021. For more information visit our Fitness Centre page.
Are Aquatics Programs still running?
Aquatic program will reopen on Monday, March 1. For information on our programs visit our Aquatics page.
What is the status of Town Events?
For information on upcoming virtual and in-person Town events visit our Special Events page.
What is the status of Town permits and rentals?
Effective Monday, December 14 all Town permits and rentals are cancelled. For more information visit our Facilities and Rental page.
Playgrounds, Park Amenities, Trails, Sport Fields, Dog Park and Recreational Amenities
What facilities are closed?
The following facilities are closed to the general public, however many of these facilities are running programs and amenities by pre-registration or appointment only. For a full listing of what facilities are open and closed to the public please visit our Reopening Aurora Page.
Aurora Town Hall
Joint Operations Centre (JOC)
Aurora's Senior Centre
Aurora Public Library
Stronach Aurora Recreation Complex (SARC)
Aurora Community Centre (AAC)
Aurora Family Leisure Complex (AFLC)
Aurora Museum and Cultural Centre
What Recreation facilities are open?
For a full listing of what facilities are open and closed to the public please visit our Reopening Aurora Page.
Can I use the trails in Aurora?
Yes. The Town of Aurora trails are open for use. Please practice physical distancing when using Aurora's trails. Sheppard's Bush has reopened with restrictions, please visit Lake Simcoe Regional Conservation Authority for more details.
Are York Region's Forests open?
Yes. Please note the use of the York Regional Forest continues to be high with parking lots at popular tracts at or exceeding capacity on weekends. The tracts currently experiencing the greatest influx of visitors include Eldred King Woodlands, Hollidge Tract and North Tract.
Beginning Saturday, January 16, 2021 and on subsequent weekends as required, parking lots will be monitored. Once tract parking lots reach capacity, they will be closed. Visitors arriving at a CLOSED parking lot will be encouraged to visit York Region's website to find alternative trails.
Residents are asked to respect Ontario's stay-at-home order and explore parks and trails within walking distance of their homes. This information can be found in the York Region Trail Guide.
Residents who visit the York Regional Forest should come prepared with directions to alternate tracts.
The following rules are in place for all visitors of the Forest:
ALL dogs MUST be leashed at all times
Do not smoke
Practice physical distancing of at least 2-metres between yourself and other forest users, both on the tracts and in common parking areas
Wear a cloth or non-medical mask where physical distancing may be challenging
Do not litter, including garbage, gloves and masks and pet waste
Please be kind and act responsibly
Can I go tobogganing?
Yes. Toboggan with immediate household members only. Practice physical distancing of at least 2-meters between yourself and others using the toboggan hills. If the hills are crowded and you are unable to maintain distance from other please consider waiting your turn or return at another time.
Can I skate on Town outdoor ice pads?
Yes. The Town of Aurora has six outdoor rinks open, weather and rink conditions permitting.
Pre-registration is required. Register online at e-PLAY.
Maximum capacity at all outdoor rinks is 25 people, except at James Lloyd Park where the maximum capacity is 15 people.
Scheduled skating times are for 45 minutes per person
Participants are asked to arrive 10-15 minutes prior to their scheduled skating time to check-in with security
Residents are asked to follow all Public Health recommendations and ask that you wear a mask and maintain a distance of 6 feet from others while using the rink. No shinny, hockey games or other sports will be allowed (no sticks and no pucks) and helmets are recommended for all participants. Town security will be on-site to ensure that all COVID-19 protocols are in place and that residents are compliant.
Outdoor Rink Locations
Note - All rinks will be open from 9 a.m. to 11 p.m., seven days a week, weather and rink conditions permitting. James Lloyd Park will close at 10 p.m.
For more information and updates visit our Outdoor Skating page.
Can I skate on ponds in Aurora?
No. We ask that residents only use the Town constructed ice rinks and that everyone stay off large bodies of water, ponds and storm sewer ponds as water levels can quickly change underneath the ice and the unpredictable weather can pose a danger to those who use it.
These ponds have a specific job, and that's to continuously collect stormwater runoff from neighbourhoods.
Because of this function, they are designed to have water flowing in and out of them all year long (from rainfall and snowmelt), making them an unsafe place to play. See for yourself – the next time you venture out to a storm pond, look around the edges of the pond and at the water outlets. You will often see open water, even in the winter!
No matter how deep into the winter or how thick the ice may appear, temperature changes can cause major variations in ice thickness. Air pockets are also easily formed under the surface and contaminants like salt weaken the ice. All these factors combined, create dangerous and unpredictable conditions that put your safety at risk.
Bylaw and Animal Services
What Bylaw Services are available to the public?
By-law Officers have resumed regular duties and will be responding to service requests on a priority basis. Concerns relating to health and safety will be investigated prior to non-health and safety concerns.
Town wide parking restrictions have been reinstated as of June 8/2020.
Business License renewals have resumed.
Sign permits are required for any new mobile sign installations
Park permits are required for any organizations or large groups utilizing Town sports fields and facilities.
In accordance with the Provincial Emergency Management & Civil Protection Act, portions of the Noise By-law have been suspended by the province:
Construction Noise is permitted 7 days a week between 6 a.m.to 10 p.m.
Commercial & Industrial Deliveries and pickups are permitted 24 hours per day to ensure businesses remain fully stocked and our supply chain remains intact.
By-law Services would like to remind residents of the current restrictions set out by the Province of Ontario relating to gatherings:
Organized public events and social gatherings are limited to five people indoors and 25 people outdoors.
Residents are encouraged to continue practicing safe social distancing and frequent hand washing
Face coverings are required when entering any indoor facility, including condominium common areas unless a medical condition prevents its use.
What Animal Services are available to the public?
Animal Services will respond to all service requests with Health & Safety concerns taking priority. Please contact Animal Services at 1-877-979-7297 (PAWS)
Be diligent in practicing social distancing with one another and pets. This means not having play dates or off-leash romps with dogs from other households or interacting with someone else's dog while on a walk
Keep your cats inside and remember to keep your dogs leashed at all times when outside
In person sales of dog licences are currently not available. If you'd like to purchase, replace or renew a licence, visit DocuPet or contact them over the phone at 1-855-249-1370
The Georgina Animal Shelter and Adoption Centre remains closed to the public and will not be accepting any animals for surrender
The Georgina Animal Shelter is also currently not accepting stray cats due to overflow. As such, all found contained cats would need to be released back outside. However, if the finders take a photo and provide it to Animal Services, they will share it.
Is the Georgina Animal Shelter Open?
No. The Georgina Animal Shelter is closed to the public. If you have lost your pet you can contact Animal Services at 1-877-979-7297 (PAWS). If you pet is found and taken to the Georgina Animal Shelter you will need to contact the shelter to make arrangements to schedule an appointment to pick-up your pet.
Waste and Recycling Services
Will my waste and recycling service be affected?
No. At this time, all waste and recycling services will not be affected. Green for Life Environmental has closed access to their public office until further notice.
How can I obtain a yellow Yard Waste Sticker?
If you require a yard waste sticker please call the Town at 905-727-1375 or email Access Aurora
How do I replace my broken Blue or Green bin?
If your Town of Aurora green bin or blue recycling bin is damaged, please contact Green for Life (GFL) at 1-866-421-5625 to schedule to have the replacement bins delivered to your home.
How can I purchase a new Blue or Green Bin?
Please mail or drop off a written request to purchase recycling bins from the Town of Aurora.
In your written request please clearly provide the following:
Type and quantity of bins you wish to purchase
Your name, address and phone number
Cheque (not cash) made out to: Town of Aurora, 100 John West Way, Aurora, ON L4G 6J1
The drop box is located at the Joint Operations Centre main address, to the right of the front doors: Joint Operations Centre, 229 Industrial Parkway North, Aurora, ON L4G 4C4
Please make sure the cheque reflects the correct payment amount and please include your order information on the cheque so that we can process the payment along with your order.
I just moved to Aurora, how can I get a set of recycling bins?
Please contact Access Aurora at 905-727-1375 to obtain a set of bins.
How can I dispose of latex gloves and face masks?
When disposing of gloves and masks, please place these items in a tightly tied plastic garbage bag, not in the blue box and not on the ground. Please do not litter.
Can I still donate to the Textile Recycling Program?
Diabetes Canada and Cornerstone to Recovery have resumed operations at all 7 textile bins located on Town property. Please do not leave items outside the bins. If the bin is full, please go to another location or hold onto them until it has been serviced. The bins will be serviced weekly until further notice.
Planning and Building Services
How do I apply to extend my Restaurant or Bar's patio?
For restaurants and bars who are interested in extending their patio space, the Town of Aurora requires the business to submit a Site Plan Exemption Application that includes a scaled plan showing the location of buildings, location and dimensions of the patio, fencing, entrances, exits and aisle widths. All applications are required to comply with the Accessibility for Ontarians with Disabilities Act (AODA) and the Ontario Fire Code.

Some highlights from Aurora's Outdoor Patio Program include:

• All site plan application fees will be waived

• Application fees for minor variances for patio expansions will be waived

• Restaurants and bars that would like to expand or create patio space onto the sidewalk will have to enter into an encroachment agreement with the Town and must maintain accessibility requirements.

The Alcohol and Gaming Commission of Ontario (AGCO) will not require licensees to apply or pay a fee for these temporary extensions but the retailer must ensure they have completed the Town's application form, received approval by the Town and met all other applicable requirements.
The AGCO measures will be in effect until January 1, 2021.

For inquiries about Aurora's Outdoor Patio Program, please email planning@aurora.ca.
Can I still apply for or pickup an existing Planning Application?
As of September 7, 2020, the Planning Division, is now accepting appointments for Applicants to come in to have their Planning Applications Commissioned on Mondays; Wednesdays and every alternate Friday.
Planning and Development Services is accepting new applications this includes intake of permits, building/engineering plans, and all development planning applications (For example, Official Plan Amendments, Zoning By-Law Amendments, Plans of Subdivision, Site Plans, Condo Plans, and Committee of Adjustment applications.) The pick-up and drop-off area is located at the North-East corner of the back entrance of Aurora Town Hall. There will also be a box for anyone having to pick-up material with pre-arranged instructions provided. For more information on Planning or Engineering related matters, please call 905-727-3123 ext. 4226 or click to email planning or engineering. For Building related matters, please call 905-727-2123 ext. 4388 or click to email building.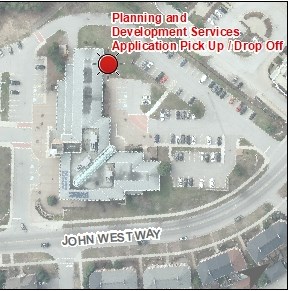 For more information on Planning or Engineering related matters, please call 905-727-3123 ext. 4226 or click to email planning or engineering.
For Building related matters, please call 905-727-3123 ext. 4388 or email building.
Physical distancing
What is physical distancing?
COVID-19 is known to spread from person to person. The only way to limit the spread of COVID-19 is to practice safe physical distancing. To reduce the spread, it is recommended that everyone:

Stay home as much as possible
Practice physical distancing (stay 2 metres/6 feet away from others)
Limit the need to leave your home. Only go outside for essential (grocery, work, exercise etc.
Wash your hands with soap and water thoroughly and often
Avoid touching your face with unwashed hands
Who can I contact if I witness social gatherings?
If you witness social gatherings please send an email with the date, time, and location to our Bylaw department or leave a voicemail with the information at 905-727-3123 ext. 4240. All complaints will be investigated, however it would be preferred if the complainant left a telephone number and name in the event that a follow-up is required.
Members of Council and Public Meetings
How do I get in touch with the Mayor and Members of Council?
The Mayor and Council are dedicated to serving the residents and businesses of The Town of Aurora. Contact information for Members of Council can be found here.
Are Public and Council meetings cancelled?
Effective October 19, 2020 - Aurora Council and Committee meetings will be held electronically. Virtual meetings* will be in effect while York Region remains in Modified Stage 2 COVID-19 restrictions enacted by the Province and effective as of October 19, 2020.
*All meetings will be held electronically as per Section 19. i) of the Town's Procedure By-law No. 6228-19, as amended, due to the COVID-19 situation.
To view the livestream meeting visit our agendas and minutes page.
Contact Information